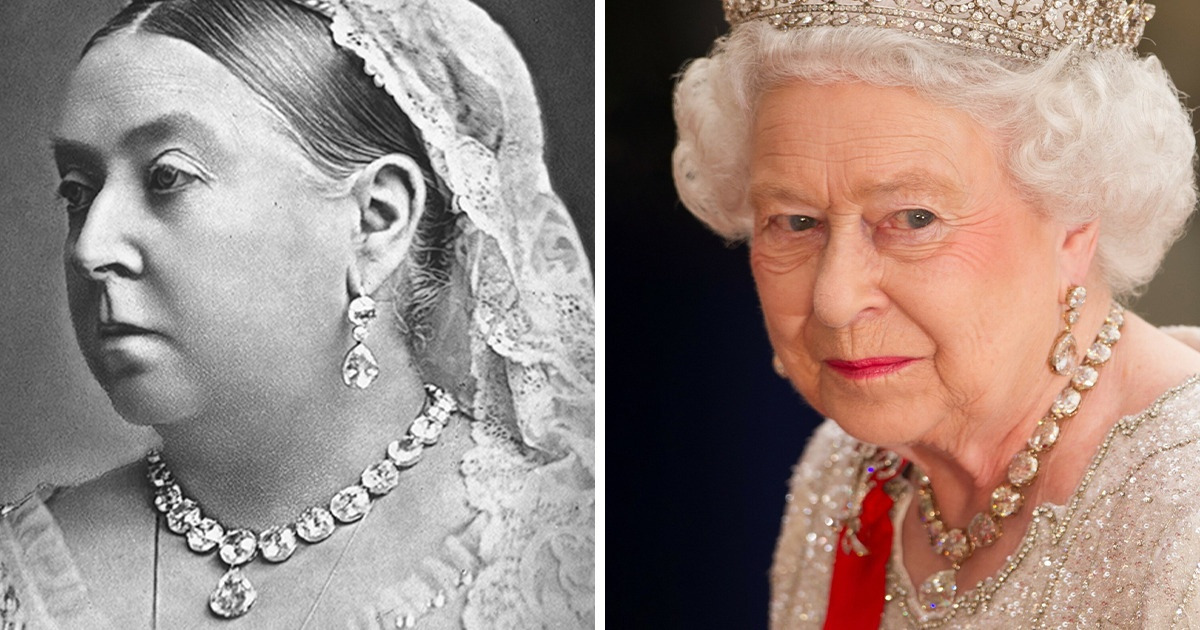 Daily News | Online News
Royals have been passing down and lending out their impressive jewelry from generation to generation for centuries. Although sometimes, those pieces get modified to match current styles or to suit the royal's current tastes. Without a doubt, it's interesting to watch these precious stones be styled by different royals for different periods of time.
1. The Queen Mary Fringe Tiara
This breathtaking Tiara was commissioned by Queen Mary a long time ago, in 1919. The headpiece has been worn by different royals including Queen Elizabeth II and was lent to Princess Beatrice for her wedding day.
2. The Kokoshnik Tiara
This magnificent headpiece was made for Queen Elizabeth's great-grandmother as a wedding anniversary gift. In the first picture, the tiara is worn by Queen Mary, who left the headpiece to Queen Elizabeth II
3. Princess Charlotte's first brooch
PHIL HARRIS / AFP / East News
Recently, Princess Charlotte was seen wearing a marvelous horseshoe brooch. This piece of jewelry was probably given to her by Queen Elizabeth. The jewel's story hasn't been confirmed yet, but a fan page discovered that the brooch was used first by the Queen mother in the 1920s.
4. The coronation necklace and earrings
These fine pieces of jewelry have been worn by different royals for 4 coronations already. They belong first to Queen Victoria, and thanks to her naming them heirlooms of the crown, they were passed down through generations.
5. The Queen Mary's Lover's Knot Tiara
Wiese / FaceToFace / REPORTER / East News, AP / East News
As the name says, this romantic tiara has a lover's knot motif, which can be seen at the top of the piece. The history behind this tiara is long, but it came into Queen Elizabeth's hands in 1953. Later the Queen gave the headpiece to her daughter-in-law Princess Diana. It is not clear what happened after that, but Kate Middleton made a recent appearance wearing this beautiful headpiece.
6. Earrings with diamonds and pearls
AP / Associated Press / East News
This year, the Duchess of Cambridge wore a pair of stunning earrings that belong to Princess Diana. Lady Di took them to a gala in 1995, and according to the court jeweler they have a horse shoe and a laurel leaf motif. Now the Duchess wears the stunning piece with a different pair of pearls than the ones Princess Diana had.
7. The Grand Duchess Vladimir Tiara
This gorgeous tiara was purchased by Queen Mary (right) from Grand Duchess (left) Vladimir's descendants. The piece was made for the Duchess in the 1870s, but it had to be sold.
8. The Duchess of Cambridge's Engagement Ring
Allstar Picture Library / Mary Evans Picture Library / East News
When Prince William proposed to Kate Middleton, he did it with a precious ring that belong to his mother. Prince Charles asked Lady Di to marry him in 1981 with that same piece, which was chosen by Princess Diana herself.
9. Princess Diana's blue earrings
These stunning pair of diamond and amethyst earrings also belong to Lady Di. The Duchess of Cambridge chose to wear them this year at the Queen's birthday parade. She decided to match the blue color of the stone to her hat, rocking a very elegant look.
10. The maple leaf brooch
Queen Elizabeth II inherited the lovely brooch from the Queen Mother. The piece is typically worn during the royals' visits to Canada — the late Queen Elizabeth II lent it to Camilla and Kate for them to use during their respective trips.
What do you think about marriage proposals that use a family ring? Do you and your family have any object that you would like to pass down to the next generation? Please tell us in the comments.
Bright Side/People/10 Remarkable Accessories That the Royals Passed Down to the Next Generations