California Governor Gavin Newsom visited the U.S-Mexico border on Tuesday in a move that may serve to highlight conservative criticism of President Joe Biden and Vice President Kamala Harris.
Many Republicans have repeatedly criticized the Biden administration for conditions at the border, with particular focus on Harris. The vice president has been tasked with addressing the "root causes" of migration into the U.S. from Mexico and so-called Northern Triangle countries of Guatemala, Honduras and El Salvador.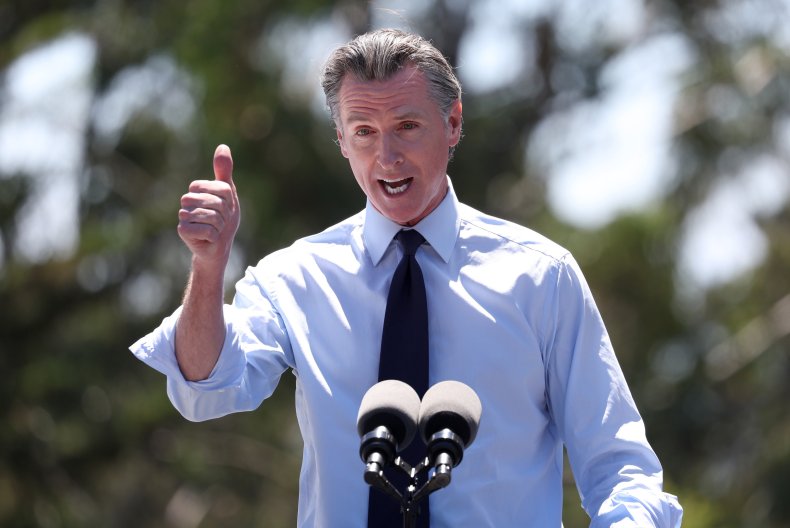 Newsom defended the Biden administration's approach to the border during his visit on Tuesday, but his trip has also led to speculation about a potential 2024 presidential bid by the Democratic governor.
Newsom visited a testing, vaccination and resource center in California and a migrant shelter in Mexicali, Mexico, where he was joined by Baja California Governor Marina del Pilar Avila Olmeda.
"On Day One of his administration, President Biden put forward a comprehensive plan focused on securing our border, ensuring Dreamers have a permanent home in our country, and helping businesses address their needs for more workers," Newsom said, according to the governor's website.
"Instead of working on real reform, the response from Republicans has been to exploit the situation at our border for political gain," he added.
"California has invested roughly $1 billion over the past three years to support the health and safety of migrants, as well as the surrounding border communities, but we cannot continue to do this work alone.
"It is long past time for Republicans in Congress to engage on real solutions to meet the public safety, public health and humanitarian issues at our border and in our immigration system," Newsom said.
On Twitter, Newsom also praised the Biden administration, while taking aim at House Minority Leader Kevin McCarthy, who may soon become speaker of the House when the Republican majority takes over in January.
"@POTUS has proposed real reform that will fix our broken immigration system—but @GOPLeader has done nothing but exploit the situation for political gain," the governor tweeted.
The U.S.-Mexico border may be a political weakness for both Biden and Harris, with a September Reuters/Ipsos poll showing that 50 percent Americans believe the Biden administration needs to do more to block undocumented immigrants from entering the country.
On December 6, Biden was asked by a reporter why he was not visiting the U.S.-Mexico during a trip to Arizona. The president replied: "Because there are more important things going on. They are going to invest billions of dollars in a new enterprise in the state."
Republicans have also been highly critical of Harris, who visited the border in June 2021. Former President Donald Trump suggested at the time that Harris had made the trip only because he had visited the border, with Texas Republican Governor Greg Abbott also planning to go there.
However, if Newsom plans to launch a presidential bid, polls suggest he's facing an uphill struggle. Biden has said he intends to run in 2024 and to have Harris as his running mate.
A Big Village poll conducted among 452 U.S. adults from November 30 to December 2 showed Biden leading a hypothetical Democratic primary with 32 percent support, followed by Harris on 15 percent. Newsom garnered just 4 percent support in that poll.
An Ipsos poll among 569 likely voters from November 9 to 21 showed Newsom on 6 percent, significantly behind Biden on 15 percent and Harris on 11 percent.
Newsweek has asked Governor Newsom's office for comment.