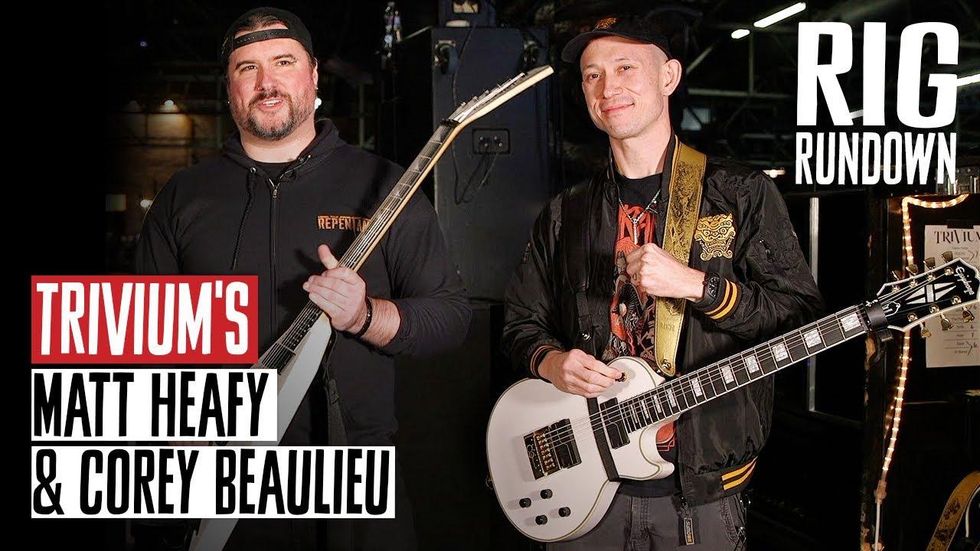 Matt Heafy and Corey Beaulieu introduce a surplus of shiny signature gear from Epiphone, Jackson, Fishman, Seymour Duncan, and Dunlop, before detailing their massive move back to 5150s.
---
Trivium steadily raised its metal flag through the old-fashioned method—relentless touring. The band took any and all opening slots, priming crowds for Metallica, Iron Maiden, Killswitch Engage, Machine Head, DragonForce, Korn, and Megadeth before graduating to headliner status. That constant grind was fueled by 10 full-length releases that incorporate varying tints and tinges of their three core musical tenets: metalcore, melodic death metal, and thrash. (The band derives their name from a Latin word that means "three-way intersection," describing their combination of these aggressive subgenres.)
And while tone dictates many decisions made by a guitarist, touring comes with a cost and might be the one thing that could trump a player's desired setup or sound. Now, with elevated gas prices, venues fleecing bands for merch cuts, and overall hiked inflation, many artists are having to compromise and condense their live arsenal. Thankfully, digital modelers like the Fractal Axe-Fx and Kemper Profiler have made that decision easier (or harder, depending where one sits on the digital-versus-analog debate). Trivium embraced the future in the early 2010s, when they shifted towards the Axe-Fx II and then pivoted to the Kemper Profiler.
"We were one of the first bands to use Axe-Fx and Kemper, and both those things rule," says Matt Heafy. So, it's rare to see a hard-charging, globetrotting force like Trivium—who were rocking Kempers during our 2014 Rig Rundown—return to their roots, blasting through furious 5150-style heads after nearly a decade on the digital dial.
"In 2019, when we were in the studio recording What the Dead Men Say, we didn't have any amps and it was a bummer. We had to scramble to find somebody who had tube amps that we could use to track, so after we finished that album, I never wanted to be stuck in that situation again. I scoured Reverb and bought all my favorite amps and everything we used for all our past albums. Through that process, I really got back into messing with gear," explains Corey Beaulieu.
Onstage, the return of the stacks enhanced their performance. "The modelers had a slight latency—I don't think the crowd noticed the difference—and I felt that if we could shave off a little bit of that by bringing back the amps, reducing the response even closer to zero, we'd be better for it. We've just really loved returning to live tube heads."
The afternoon ahead of Trivium's headlining performance at Nashville's Marathon Music Works on October 14, guitarists Beaulieu and Heafy joined PG's Chris Kies to cover the pair's smorgasbord of signature gear—they know what they like, and brands are eager to hit their high standards—and why they transitioned back to traditional tube-drenched tone.
Brought to you by D'Addario XS Strings.
7-String Surprise!

While Trivium was out on the 2013 Mayhem Fest tour, a Jackson artist rep reached out and told Beaulieu they had some new guitars for him. The rep delivered one of his standard U.S.-built axes finished in transparent red burst, plus this blue bombshell. A Jackson Custom Shop master builder took the initiative (and chance) to build Corey this 7-string based on his standard King V KV7 signature specs, but swapped the usual AAA-flame maple cap for a quilted maple top. It's the only King V with this finish, and for years—because it was special to him—it wouldn't hit the road and he'd just use it at home. Hours spent with the guitar on the couch fostered an attachment, so the band's last few tours have seen this blue devil as his main 7-string. Another cool tidbit is that it currently holds a set of Beaulieu's signature Seymour Duncan Blackouts that have yet to be announced or released. Beaulieu says that the standard Blackouts have a mid-scooped voice, and he had compensated for that with a MXR M109S Six Band EQ, but he worked with Seymour Duncan to bump those frequencies in his set and he no longer requires the pedal. It takes the band's signature Dunlop TVMN10637 Heavy Core Trivium Strings (.010–.014–.018–.030–.040–.052–.063) and usually stays in B-flat tuning.
Winter Is Coming

Here's Corey's Jackson Custom Shop Signature King KV6 that roars with his custom Seymour Duncan Blackouts, squeals thanks to its Floyd Rose Original Double-Locking Tremolo, and is finished in winter storm. Like the 7-string, it takes the band's signature Dunlop Heavy Core Trivium strings (.010–.052). This abominable snowman tunes to either drop D or C#.
Restoring the Rock

"We've used some sort of iteration of the 5150 formula on nine of our 10 albums, so it made sense to tour with. Plus, the EVH 5150III 100S were featured on [2021's] In the Court of the Dragon, so it made sense these would be the ones," details Heafy. The band were early believers in digital disruptors like the Axe-Fx and Profiler, and toured with either, exclusively, for almost a decade. Both Heafy and Beaulieu have come full circle and returned to their glowing-glass roots. They landed on the 100W 6L6-version of the 5150III 100S for the road because Heafy digs their "super-tight feel."
The down-picking duo each employ their own Radial JX44 V2 Concert Touring Guitar & Amp Signal Manager and Shure AD4D wireless unit. The Kemper Profiler in the top left isn't even plugged in and is an extra safety net.
Corey Beaulieu's Pedalboard

Corey tries to keep his signal as pure as possible. He has an MWK Audio Lonely Ghost (reverb/delay/boost), an Eventide H9, an ISP Decimator, and a MXR M109S Six Band EQ that now sits flat. An MXR Iso-Brick powers the stomps.
Tatsu Tone

Both Corey and Matt run their 5150 IIIS heads into matching EVH 5150III 100S 4x12s that are stocked with Celestion G12 EVH speakers.
White Knight

Matt Heafy's first real guitar was a Gibson Les Paul Custom—a gift from his father when Heafy was 11 or 12. And while he's played several styles of guitars made by numerous companies, he recently made a splash by announcing a new partnership with Epiphone, collaborating on 6- and 7-string models that would be available in right- and left-handed configurations. The above white singlecut is his Epiphone Matt Heafy Les Paul Custom Origins, with a mahogany body, a maple top, a mahogany SpeedTaper D-profile neck, Grover locking tuners, and Graph Tech nut. A hallmark of the instrument is Heafy's custom-voiced signature Fishman MKH Fluence humbuckers that sound pretty close to the Modern Fluence humbuckers, but Heafy added an overwound split-coil option when you pull up on the volume knob. The push-pull function of the tone knob toggles between active or passive humbucker modes. The production models come stock with a Tune-o-matic bridge, but Heafy prefers an EverTune bridge to lock his stage instruments in tune. The nylon snugged between the pickups is the second strap for his Richter Straps Matt Heafy Signature Double Guitar Strap, which wraps around each shoulder evenly, distributing the guitar's heft by reducing any unwanted tension on his left shoulder and upper back. His 6-string takes Dunlop TVMN1052 Heavy Core Trivium, and he attacks them with signature Dunlop Matt Heafy Custom Max Grip Jazz III picks.
(He jokes during the Rundown that when his twins hit that age, they will not be getting Gibson Les Paul Customs. However, we bet they'll have a few of dad's signature Epiphones laying around their bedroom.)
Heafy's Heavy Hitter

Meet Chugasaurus Rex, his Epiphone 7-string Matt Heafy Les Paul Custom Origins signature that shares the same DNA as his 6-string, but boasts an additional string for ultimate evisceration. As expected, this one takes Dunlop TVMN10637 Heavy Core Trivium strings.
Matt Heafy's Pedalboard

Trivium's leader utilizes a few more stomps than his counterpart, but keeps things relatively simple. Heafy routes his guitar into the MXR M109S Six Band EQ, and then into KHDK Electronics Ascendancy Trivium signature overdrive, then into an ISP Decimator, and then into the amp. His 5150 III's effects loops holds the MXR Carbon Copy Deluxe, MXR Reverb, and Airis Effects Savage Boost. A MXR M238 Iso-Brick breathes life into the pedals.
PA As the Cab

Trivium does have live cabs onstage that pump out some serious dBs, but Heafy believes the best way to utilize technology and fill the room with pure sound from front to back is to send the head into a Two Notes Torpedo Captor X that then feeds FOH—who then fill the PA. "I mean, why not use the head with the PA as the cab? I feel that's the best way to do it," asserts Heafy.