Saturday, Dec. 10: Readers find restaurateur's plan to ring out 2022 more than a little tone-deaf. Plus, debating civilly, women's equality and face masks. Letters@ottawwacitizen.com
Publishing date:
Dec 10, 2022  •  9 hours ago  •  10 minute read
Join the conversation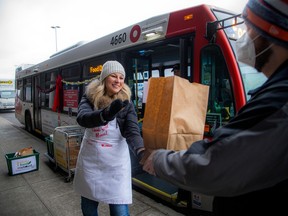 This $20K could be better used
Re: Ottawa's Atelier restaurant wants to ring out 2022 with a private, $20,000 dinner for four, Dec. 5.
Sign up to receive daily headline news from Ottawa Citizen, a division of Postmedia Network Inc.
By clicking on the sign up button you consent to receive the above newsletter from Postmedia Network Inc. You may unsubscribe any time by clicking on the unsubscribe link at the bottom of our emails. Postmedia Network Inc. | 365 Bloor Street East, Toronto, Ontario, M4W 3L4 | 416-383-2300
Peter Hum's article left me wondering how Atelier restaurant's chef/owner thought that his decision to offer such an extravagant meal proposal would resonate with families who are struggling to put food on their tables while attempting to find the funds for everything else.
While undoubtedly Marc Lepine and those who might take him up on his offer support many worthy causes, perhaps they might consider paying forward the cost of preparing and consuming this meal to the food banks, The Ottawa Mission and the many other local organizations that would be delighted to receive a $20,000 donation.
Bill Windeler, Orléans
Please donate these restaurant profits
My only hopes are that Atelier and Marc Lepine will donate the profits to the Ottawa Food Bank. Patrons thinking of attending this should also think about what the Ottawa Food Bank could do with $20,000 this holiday season.
For many Ottawans, going out on New Year's Eve, even to McDonalds, is not a family option.
The Snowsuit Fund also needs 16,000 snowsuits and Toy Mountain has a demand for 25,000 unopened gifts. Are truffles that important? I think not.
Kevin Farrell, Ottawa
A bad idea when people are struggling
Really? At a time when food prices are so high that families are skipping meals and food banks are overwhelmed? Why not ask those four for whom "money is no object" to direct their funds where it's really needed and give your staff a paid night off?
Judy Bernstein, Ottawa
$20K meal offer is just tone-deaf
Upon reading about the proposed dinner for four costing $20,000, to be served at Atelier, I was at first outraged, but upon reflection am now just saddened.
At a time of the year when compassion and caring for others is a paramount value, and during a time when many families are struggling with rising food costs, this is surely profoundly tone-deaf. Perhaps Atelier should be encouraged to donate the entire proceeds ($20,000) to the Ottawa Food Bank (or auction the seating to the highest bidder to give to a Christmas charity) to help ensure a more joyous Christmas for parents and children who cannot afford even a modest celebration together.
John Walker, Ottawa
Advisory groups have little influence
Re: Ottawa council backs pitch for new LRT committee at first meeting after public inquiry report, Dec. 7.
Council has just voted not to include citizen members on its Transit Commission and instead will have a civilian advisory body. It would be useful for the councillors on the Transit Commission and the proposed new sub-committee to actually use public transit frequently and experience it first-hand.
The newly formed advisory committee may work if made up of knowledgeable transit users such as Sarah Wright-Gilbert, who was excellent in exposing LRT problems while she was a public member of the Transit Commission. However, given my past experience as a co-chair of the Environmental Stewardship Advisory Committee, I'm not convinced the new advisory group will have any influence.
After spending an enormous amount of time reading reports and new proposals, as well as making presentations to council on behalf of ESAC, I realized that we had zero impact and I resigned after three years. I hope the new Citizens Transit Advisory Committee has more luck and the city actually considers its advice.
Nancy Biggs, Orléans
Just call it a vacant unit fine
Homeowners have recently received a letter from the City of Ottawa regarding the new vacant unit tax (VUT). It states the tax will "encourage homeowners to return units to the housing market and proceeds will be used to support affordable housing initiatives."
Parking fines "encourage" owners to remove their vehicles; speeding fines "encourage" drivers to slow down; and off-leash fines "encourage" citizens to keep their pets controlled. Fines exist because the city dictates the appropriate behaviours in, and uses of, public places.
It's clear that the city has now determined it should control — I mean "encourage" — how people use their private property. In that case, the city should use the proper terminology: this tax is actually a "vacant unit fine."
Trevor Starchuk, Nepean
Citizen, stop fuelling the outrage factory
Re: I knew about Polytechnique massacre, Carey Price says in Instagram apology, Dec. 6.
I was a 19-year-old university student in Montreal at the time of the attack at the Ecole Polytechnique. I have lived 33 years with the fear of that day burned into my memory, but have also lived a life of activism and dedication to improving my community.
Do your columnists think I give one moment's thought to anything some pro athlete says? More to the point, when it could be profiling people who are working to combat gun violence at the community level, and telling your readers how to get involved with that, why does the Citizen think it's doing a great service to public information by whipping up this non-controversy?
Carey Price isn't a fan of the gun legislation. Many people aren't. You're just giving him more air time. When you have limited resources, use them wisely and read the room: People are developing an appetite for activism. The Citizen could be uplifting them instead of fuelling the outrage factory. Please do better.
Jane Bailey, Kingston
Women's equality is still a myth
Re: Ottawa vigil honours memories of Polytechnique shooting victims and female victims of homicide, Dec. 7; and Abuse is not an argument. Let's choose not to accept incivility, Dec. 5.
Once upon a time I believed that I, as a woman, could do anything I wanted, as long as I had the qualifications. Then I tried to get a job in a male-dominated trade, and learned what a myth that was.
Once upon a time, I believed that schools were safe places for women to get the qualifications for a white-collar job. Then Dec. 6, 1989 rolled around, and we all found out how safe women could be at school.
Once upon a time, I believed that our society had gone past physical abuse of women. Then I walked behind teenage students and heard one say to her friend: "I know my boyfriend loves me. He doesn't hit me in the face."
Once upon a time, I believed that social media could be a force for good. Then I saw what sort of antisemitic, misogynist threats were commonly tossed into the mailboxes of people such as Dr. Nili Kaplan-Myrth, whose "crime" is to be a woman, working for the public good.
I don't believe the myth of women's equality any more.
Eleanor Abra, Ottawa
Kaplan-Myrth deserves our thanks
Congratulations to Dr. Nili Kaplan-Myrth for a heartfelt, understanding and empathetic opinion article. Thoughtful debates are the core of a democratic society, where all sides of a contentious topic are heard and considered with the goal of reaching solutions to important issues. Personal attacks, foul language and hatred solve nothing.
Kaplan-Myrth demonstrates support of all children, of people with mental health issues, and those who doing their best to lead us into a better world. Let's listen to her and do our best to encourage change positively through thoughtful consideration and civil engagement.
Dawn Cooper, Manotick
Hey mask, we're splitting up
Re: It's me, your mask. We need to talk, Dec. 6.
Hey mask, I don't want to come across as insensitive, but truth be told, this was a shotgun wedding from the get-go. We have been drifting apart for a while now and for me, it's been an emotional drain.
I know the world is a dangerous place and you want to protect me. Well, as long as we are being honest, I think you do an OK job of guarding the front door but all too often, you leave the side door wide open. If the nasties are floating around, would they not simply float in and out via the side door?
Now mask, you know me. I'm the guy who drives around with a sleeping bag in the trunk of his car just in case. I am not advocating reckless behaviour. I just think you are overstating your ability to protect and by so doing creating a false sense of security. I think the best way to stay safe is to avoid places where nasties hang out. If I absolutely need to go to a place that is unsafe, I will ask your buddy, N95, to tag along.
I trust you will find that special person who will cherish you and love you forever. Sadly, I am not that person. It's time to move on. Life is short. Maybe, someday, circumstance will dictate we get together again but for now, I just need space. I need to breathe. I need to get reacquainted with old friends and see their smiles. I need to live a little, just a little. There is no such thing as life without risk.
Andre Pharand, Ottawa
Send surplus vaccines to China
The Citizen reports that 21 million doses of COVID vaccine are still good and will go unused on top of the already wasted millions of doses.
Here is an idea: Why not donate the 21 million doses to China in these times of conflict? China, the country Trudeau referenced often as worthy of working with, even as it sinks under waves of COVID.
This would show that we deserve some respect and that Canada thinks globally. Is it not better than simply wasting the vaccine?
Brian Vachon, Greely
Responsible policy or Ponzi scheme?
The Bank of Canada has again raised the interest rate. Yet it claims to save us all from inflation. Tell that to many Canadians further impoverished by crippling mortgage and loan repayments.
Meanwhile, the Bank lost $522 million in the last three months by essentially printing money, nuanced as quantitive easing. It's the first shortfall in 87 years. Do we have here a whimsical Ponzi scheme masquerading as responsible monetary policy?
Des Loftus, Ottawa
Tech security isn't about the label
Re: RCMP tech contract with China link draws rare Trudeau rebuke, Dec. 8.
I never cease to be amazed at the naïveté of leaders who seem to believe that you can detect security flaws in a complex piece of equipment by looking at its nameplate or determining the nationalities of the manufacturer's owners. Many of today's products are very complex combinations of hardware and software that nobody fully understands. A product has to be examined in detail to determine whether or not it is suitable for its intended use.
Many companies build products in many countries and incorporate both code and hardware from many places. They hire talent without much regard for nationalities. Employees change companies often and take what they have learned with them. There are many opportunities to either plant or exploit flaws in equipment from any source. A country intent on espionage would be wise to exploit equipment associated with other countries, thereby protecting the reputation of its flagship firms.
If a product is well-structured and comes with documentation that is precise and complete, inspecting it for flaws is much easier. The only way to improve our security is to establish firm standards for structure and documentation, then conduct a detailed inspection of the design.
Dave Parnas, Ph.D., P.Eng., Ottawa
He passed away on his favourite day
"Dad just died," said my mother into the phone.
I was standing in the kitchen of the apartment I shared with my love and partner. The night before, Christine and I had attended an early Christmas Mass and serendipitously opted to pay a visit to my ailing father in the home where I was born and I grew up.
He managed to say a few words to me: "It's horrible" and "the trick is not to stay too long" — meaning don't wear out my welcome. I knelt by his bedside and prayed a short while. On my way out, my sister Martha said, "That was a good visit." It was lucky that we decided to go that night rather than wait for Christmas. I don't like talking about it.
A few days later, I broke down at church. I was giving the second reading and completely fell apart. I do remember two people in the pews who stood out. My father's old "chum," Pat McAlpine, stood straight and tall, and my brother Lawrence observed my distress with a thoughtful expression. I was a wreck and some people were comforting. Someone going past me at Communion patted me nicely on the shoulder. (Maybe it was Dad?) I heard my father's voice say, "Come on, now, Peter" — meaning to stop my acting out.
Christine was beside me and later my Aunt Noreen told me that if Christine had not been by my side, she would have been. I remember the most beautiful singing of "Be Not Afraid" from the rows behind me and I knew it was my mother's family doing the singing. That was a fine and lovely moment.
Then he was gone. Seventy-five years old and he died on the day and time he loved the most: Christmas morning.
Peter Jeffrey Boyle, Ottawa
Today's letters: On the future of Ottawa's Dominion Observatory

Today's letters: Healthy debate — just what the doctor ordered