Yevgeny Prigozhin, a Russian businessman who earned the nickname "Putin's chef" through his catering contracts with the Kremlin, was reportedly sued more than 500 times last year over supplying the Russian army with low-quality food.
Prigozhin, a former hot-dog seller turned billionaire restaurateur with close ties to the Russian president, was hit with 560 lawsuits in 2022 by Russia's defense ministry for allegedly supplying the Russian army with poor-quality, rotten and infected food, the independent outlet Mozhem Obyasnit ("We can explain") stated on its Telegram channel.
Prigozhin who founded the Wagner Group—the Russian mercenary paramilitary organization—was given the nickname after he became a restaurateur following a stint in prison. He began carrying out the catering for Kremlin banquets and has personally served Putin himself.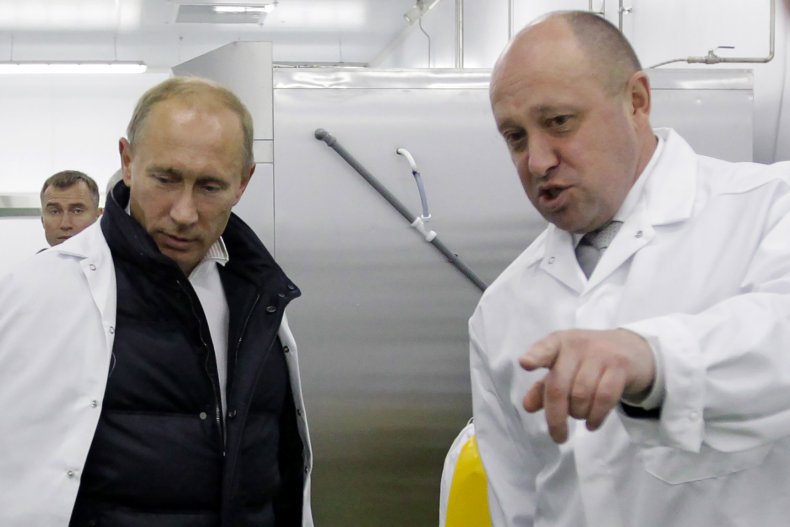 He went on to set up his restaurant and catering business, Concord Catering, which began by supplying food for school children. He later secured a contract to feed the Russian army.
According to Mozhem Obyasnit, the Russian defense ministry's procurement arm—JSC Voentorg—filed 560 lawsuits against food suppliers associated with Prigozhin, claiming more than 107 million rubles ($1,555,780) in damages.
Voentorg is a contractor of Russia's defense ministry and provides catering and laundry services for the Russian army.
In the first year of Putin's full-scale invasion of Ukraine, Prigozhin's companies were hit with a record number of lawsuits over supplies to the Russian army, according to Mozhem Obyasnit.
Voentorg, however, claimed the most money from Prigozhin's companies in 2020—197.1 million rubles ($2,866,283), the independent outlet found. It noted that after Putin invaded neighboring Ukraine on February 24, 2022, the number of violations increased, including due to changes in logistics, while the number of claims in courts also rose.
Companies associated with Prigozhin not only supply the food products themselves, but they also reportedly prepare and serve the food directly in the military units themselves.
According to the outlet, auditors regularly find violations, such as "undersized quantities of food, expired products, substitutions of substituted products with substitutes of other quality, E. coli detected in food, cooks without health certificates, violations in storage, and so on."
In September 2022, Prigozhin admitted to being the mastermind behind the shadowy paramilitary unit, the Wagner Group, which was founded in 2014. The group, which provides soldiers for hire, has been leading Russian forces in offensives in eastern Ukraine.
In recent weeks, experts have noted the growing divide between Prigozhin and Putin after the former criticized Russia's progress in the invasion of Ukraine.
Newsweek reached out to Russia's Foreign Ministry and Concord for comment.
Do you have a tip on a world news story that Newsweek should be covering? Do you have a question about the Russia-Ukraine war? Let us know via worldnews@newsweek.com.