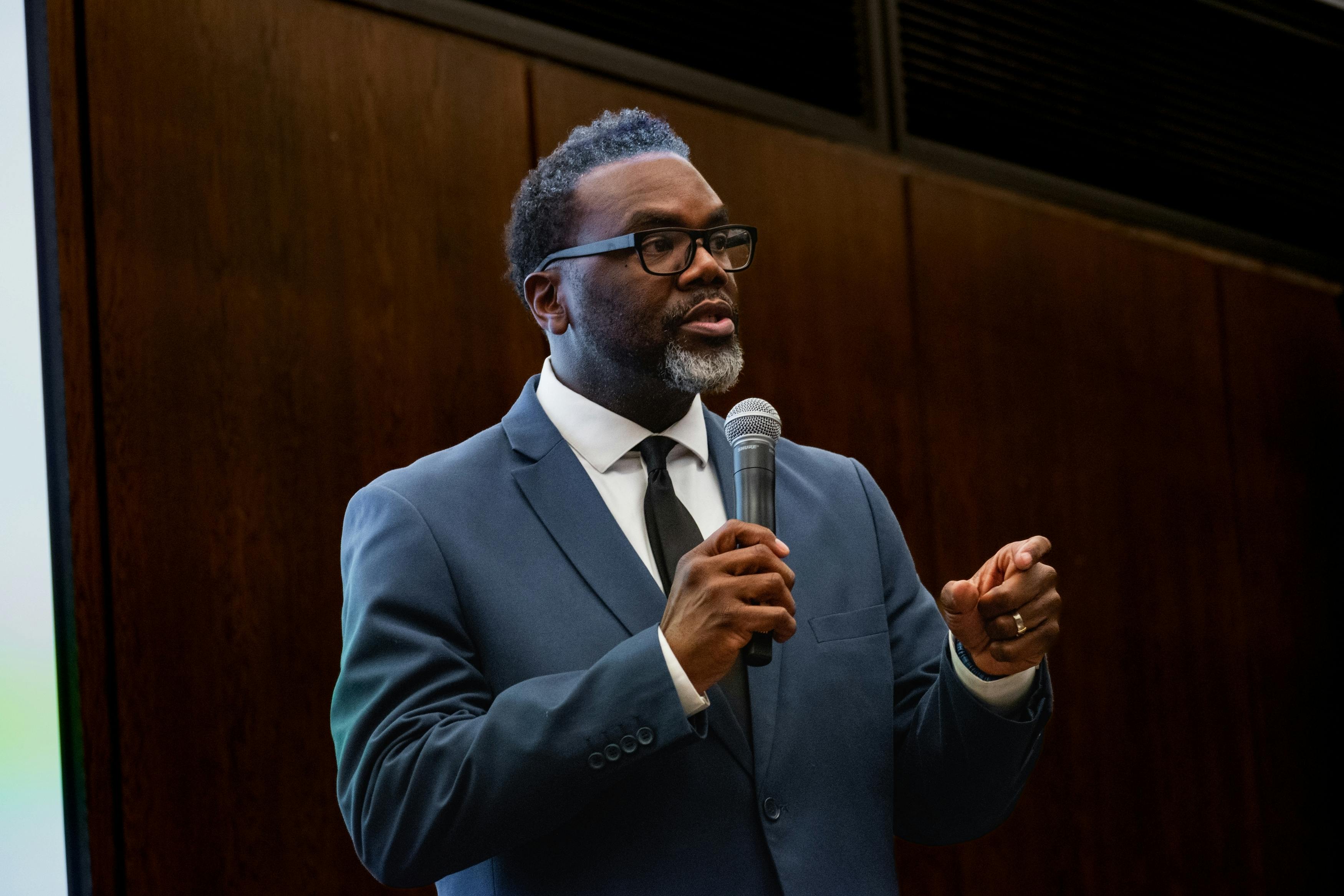 Chicago mayoral candidate Brandon Johnson is surging. Polls are tightening. A broad coalition of labor, women's rights, and LGBTQ advocacy groups are throwing their support behind Johnson. And this week, he has earned endorsements from Senators Bernie Sanders and Elizabeth Warren, Representative and Democratic kingmaker Jim Clyburn, and Representative and former opponent Chuy Garcia.
The endorsements come alongside reports indicating growing support for Johnson's candidacy ahead of the April runoff. A poll conducted this week showed Johnson leading his opponent, pseudo-conservative Paul Vallas, 46–44. The first two polls conducted after the general election last month showed Vallas leading Johnson by 9 and 11 points, respectively. Johnson's steady rise mirrors his path during the general election, as his performances on the debate stage and on the campaign trail gradually earned him more support.
Johnson's performance is all the more notable in Chicago, where crime has pervaded as a main issue throughout the entire race. Question after question in debates—whether about transportation, education, housing, and so on—has been framed through the lens of crime. But Johnson has not taken the bait, insisting on reimagining public safety. "This so-called toughness that politicians or insiders have just been recycling over the past 40 years has failed us—in the most dramatic of ways," Johnson told TNR in January.

Johnson has remained consistent even as national Democrats have taken the bait on right-wing crime narratives. Earlier this month, 33 Senate Democrats and 31 House Democrats, led by Biden himself, voted with Republicans to overturn modest criminal justice reforms in Washington, D.C. Johnson, however, has stuck to his vision to invest in a more holistic approach to public safety: affordable housing, mental health services, year-round youth opportunities, and more. And the message has resonated enough with local groups, from unions to advocacy organizations, to build a wide enough coalition that earned trust from both Sanders and Clyburn.
Vallas, meanwhile, has come under fire for being further right than he lets on. The Chicago Tribune found Vallas's Twitter account had liked several tweets that "used racist language, supported controversial police tactics like 'stop-and-frisk' or insulted the mayor in personal terms." The Chicago Sun-Times reported Vallas once described himself as "more of a Republican." And he has also come under scrutiny for his close relationship with the Fraternal Order of Police, as well as his previous role as a school superintendent in Louisiana, during which time he helped flip virtually all schools in New Orleans into charter schools, some of which reportedly discriminate against disabled students.
It is just some two weeks away from the runoff election. If Johnson continues his climb and Vallas can't find a way to break free from all that plagues his campaign, Chicago voters may yet show America their hunger for a new vision of politics.
YouTube restored former President Donald Trump's channel on Friday, two years after he used it to help incite the January 6 insurrection.
Trump was suspended from the platform a few days after the riot for posting content that incited violence. YouTube removed some of the videos on Trump's channel and restricted comments, although the company said it would lift the suspension when it felt "the risk of violence has decreased." The last video on his YouTube page is a 46-minute speech from December 2020, during which he complained about the "rigged" election.
But as of Friday, Trump's channel "is no longer restricted and the ability to upload new content is restored," YouTube's vice president of public policy Leslie Miller told Axios.
"We carefully evaluated the continued risk of real-world violence, balancing that with the importance of preserving the opportunity for voters to hear equally from major national candidates in the run up to an election."
Miller said the channel will be subject to all of YouTube's policies on content moderation. But many social media platforms give leeway to posts they deem "newsworthy," meaning considered to provide more to public interest than to cause harm.
With the suspension lifted, Trump can now post videos and buy ads ahead of the 2024 election.
Trump has been granted access once more to all major social media platforms, although he has yet to make his grand reentry to Facebook, Instagram, or Twitter, instead favoring his own Truth Social.
Trump has millions of followers on his mainstream social media accounts, including 2.6 million on YouTube—and that's less than a tenth of the followers he has on Facebook or Instagram. On Twitter, he has even more.
Experts were already worried that letting him back onto mainstream social networks would increase the flow of disinformation ahead of the 2024 election. OnYouTube, he'll have greater ability to purchase targeted ads.

Don't forget, he was suspended from all of these platforms in the first place for sharing false information about the 2020 election and January 6. And prior to his suspensions, he had already gotten reprimanded for sharing misinformation about Covid-19 and election fraud. In fact, misinformation on Twitter dropped 73 percent after Trump was suspended from the platform.

This post has been updated.

The congressional Florida contingent is sure that the next president will be from their home state, but very few are willing to say outright whether they back Donald Trump or Ron DeSantis.
Politico asked all 22 Floridians on the Hill whether they preferred the former president or the current governor. Most preferred to keep their cards close to their chest.
"Oh, wow. You are really trying to get me into a situation here," joked Representative Neal Dunn. Dunn said he had made up his mind but wouldn't share his endorsement because he didn't want to put a target on his back.
Another Florida Republican, speaking anonymously, said, "Do you think I want to talk about that? You think I'm crazy?"
So far, only Trump has announced that he's running for president, although DeSantis is expected to announce a run. The latter recently visited Iowa and commented on Fox News about the war in Ukraine—attempts to showcase his appeal in another state and his foreign policy chops, which governors typically don't worry about.
Both men have demonstrated an ability to hold grudges and to take them out through their politics. Trump in particular is known for turning on a dime against anyone he perceives as an opponent. That includes DeSantis: Trump had backed the governor during his reelection campaign in 2018.
But now that the governor is nipping at his heels, Trump has slammed him as disloyal and nicknamed him "Meatball Ron" and "Ron DeSanctimonious." Trump's influence in the Republican Party is declining, but he's still powerful. The Florida contingent knows better than to alienate him just yet.
DeSantis is less brash than Trump but no less dangerous. The governor has been quietly but steadily cutting back human rights in his state, particularly for women, the LGBTQ community, and people of color. He could easily exact revenge on members of Congress who turn on him, such as by restricting resources for their district.
Only two representatives were open about who they support. Both Matt Gaetz and Anna Paulina Luna backed Trump. Gaetz pointed out that DeSantis has been somewhat closed off and hasn't tried to build relationships with federal lawmakers.
Senator Rick Scott said he typically doesn't endorse anyone during the primary, but he similarly noted that he has a more open relationship with Trump.
Overall, the lawmakers were clear on one thing: "The next president will be from Florida." It doesn't seem like they really care who the nominee is, so long as it's someone who will help them complete their political agenda.
A Florida Republican lawmaker has introduced a bill to restrict sex education in public schools that would also prohibit younger students from discussing their periods with school officials.
The bill, originally introduced in February, would ban teaching students about health, reproductive health, or sexually transmitted diseases before sixth grade.
"Does this bill prohibit conversations about menstrual cycles? Because we know that typically the ages is between 10 and 15. So if little girls experience their menstrual cycles in fifth grade or fourth grade, will that prohibit conversations from them since they are in a grade lower than sixth grade?" state Representative Ashley Gantt asked during a House Education Quality Subcommittee meeting on Wednesday.
The bill's sponsor, Republican state Representative Stan McClain, admitted the measure would.
Gantt later asked if the bill would penalize teachers if students younger than sixth grade come to them with issues or questions about their period. McClain said that "would not be the intent" of the bill, and that he was open to amendments that would allow for such conversations.
But given the scope of the rest of the bill, it would be surprising if students will even know what to ask. McClain's measure would dramatically limit what can be taught about sexual health. Teachers would have to say that sex is only male or female, and that the "reproductive roles are binary, stable, and unchangeable."
Any sex education would be abstinence-only, and the bill includes language that makes sex and desire sound shameful.
Parents would have the right to object to and contest any course material that they think is not age-appropriate, is pornographic, or contains sexual content that is not purely educational. If a special committee agrees with the complaint, the material will be pulled from the school.
Parents could also see the school library catalog and prevent their children from accessing any of the material.
Florida Republicans are cracking down hard on the rights of women and gender minorities. They introduced a bill that would ban abortion after six weeks, and have banned transgender girls from playing girls' sports.
The state high school athletics governing board came under fire in January for deciding to require that student athletes give schools detailed information about their menstrual history. Parents and health care providers slammed the measure as an invasion of privacy and worried the information could be used to find out which students got abortions or were trans.
The Florida High School Athletics Association decided in February not to require students' menstrual history, but it will require them to report their sex assigned at birth—another measure that many worry could be used to out trans students.
This latest bill seems to imply that when Florida legislators said they don't want to know students' menstrual history, they really meant it.
On Thursday, a BNSF train derailed on the Swinomish reservation in Washington state, spilling some 5,000 gallons of diesel. No one appears hurt after the derailment. But it only adds to the over 1,000 derailments that happen every year in America—any of which could turn into the next East Palestine, as lax rules allow toxic trains to move sans regulation and corporations continue making trains longer and crews smaller.
Since the derailment in East Palestine, Ohio, a lot of focus over the last month has been on Norfolk Southern, the rail company responsible for the disaster. But Thursday's news serves as a reminder that issues in the rail industry are not limited to one company. In the past month, BNSF, the largest rail company in the United States, has not been shy about its efforts to block the growing push for rail regulation.
As Sludge has reported, BNSF led the rail industry in contributions to state candidates last year with $6.8 million spent. It was also the leader in state lobbying, spending another $12.7 million since 2003.
And since the disaster in East Palestine on February 3, BNSF's spending hasn't seemed to slow down.
After the Norfolk Southern train derailment, BNSF's political action committee spent the rest of the month throwing $15,000 a piece to the Democratic Congressional Campaign Committee, the Democratic Senatorial Campaign Committee, the National Republican Congressional Committee, and the National Republican Senatorial Committee. The company sent $5,000 to the Association of American Railroads, a group that aggressively lobbies Congress on behalf of America's rail giants.
BNSF also donated $2,500 to Republican Representative Sam Graves, who is the chairman of the House Committee on Transportation and Infrastructure. The donation is not an aberration. During the 2022 election cycle, Graves was the leading recipient of donations from the railroad industry—more than the other 434 members of the House.

All this while Congress now considers bipartisan legislation to enact industry-wide safety measures on railroads.

Just one day before the Ohio derailment, BNSF also donated $1,000 to North Dakota's House Republican leadership, as well as to its Senate Republican Caucus fund. What may sound random is actually part of an ongoing relationship with North Dakota's congressional delegation. One of at-large Representative Kelly Armstrong's top contributors is BNSF, which has given the Republican member of Congress $25,000. Berkshire Hathaway, the parent company of BNSF, has given Senators John Hoeven $35,000 and Kevin Cramer $25,000.
And money talks. Hoeven has seemingly expressed little public concern about the rail industry since the East Palestine derailment. In 2021, however, he, Cramer, and Armstrong did send a letter to the Surface Transportation Board advocating for the Canadian Pacific, or CP, and Kansas City Southern, or KCS, merger. As The American Prospect reports, Hoeven was rewarded with $3,000 from the Association of American Railroads, which includes CP, KSC, and BNSF as members.
As far as Cramer goes, he applauded the merger between CP and KCS on Wednesday. Since the East Palestine derailment, he's used the accident to advocate for building more pipelines, rather than making railroads safer. When asked about a bipartisan effort in the Senate to pass railroad reform, Cramer expressed a fairly lax analysis of how he and other Republicans felt. "Nobody jumped up and said, 'Sign me up,'" he told The Washington Post. "I didn't hear anybody say, 'Hell no, we won't go,' either."
Meanwhile, Cramer has previously signed off on a bill to prohibit the Department of Transportation from issuing any regulation to limit the transportation of liquefied natural gas by rail.

Cramer, Hoeven, and Armstrong all voted against providing rail workers paid sick leave days.
Norfolk Southern has been under a magnifying glass since one of its trains disastrously derailed in East Palestine—and for good reason. But let BNSF's unbashful spending campaign serve as a reminder that the wider industry is ruthless and can readily buy more lenience if attention strays elsewhere.
The Georgia House of Representatives passed a bill Thursday banning gender-affirming care for minors, putting it on track to become the ninth state to target transgender youth.
The bill passed by a vote of 96–75 and now goes to the Senate. The Republican-controlled chamber already passed a previous version of the measure and so is likely to pass the amended one too.
If it becomes law, the bill would ban hormone therapy and transition-related surgeries for anyone under the age of 18, with proponents and the bill text arguing that doing so would protect children.
Major medical organizations, including the American Academy of Pediatrics, support giving gender-confirming care to children, deeming it medically necessary and even lifesaving.
Democratic Representative Omari Crawford slammed the measure ahead of the vote, arguing that passing it would essentially be the same as the chamber making medical decisions. "We are not doctors, we are lawmakers," he said. "Voting for this bill would make us hypocrites."
While debating the bill, several of the representatives who back it cited data that is outdated and inaccurate, writer Erin Reed pointed out. Republicans also insisted that there are no studies that show whether gender-affirming care has a positive effect.
This is not true: Multiple studies, including one published in the New England Journal of Medicine and another released by the Journal of Adolescent Health, have found that trans and nonbinary teenagers who receive gender-affirming care have significantly lower rates of anxiety, depression, and suicide or suicide attempts.
"What you just heard is disinformation," Democratic Representative Sam Park said of his Republican colleagues' arguments. "You are not protecting children by passing this bill. You are inflicting harm.
"You are passing this bill in your political self-interest."
Other Democrats pointed out the hypocrisy of barring parents from making decisions about their children's welfare while insisting parents had the right to decide what topics kids study in school.
Georgia is part of a much larger wave of Republican-led states seeking to dramatically curtail the rights of gender minorities. The bills don't just focus on trans minors: Other bills would attack drag performances, prevent people from changing their IDs to reflect their gender identity, or even set a legal definition of gender to exclude trans and nonbinary people.
On Thursday, the Senate voted 68–27 to advance legislation that would repeal the 1991 and 2002 Authorizations for Use of Military Force, or AUMFs, against Iraq.
Here is a list of every senator—all Republicans—who voted against advancing the legislation:
Marsha Blackburn

John Boozman

Katie Britt

Shelley Moore Capito

John Cornyn

Tom Cotton

Mike Crapo

Joni Ernst

Deb Fischer

Lindsey Graham

Bill Hagerty

Cindy Hyde-Smith

John Neely Kennedy

James Lankford

Markwayne Mullin

Pete Ricketts

James Risch

Mitt Romney

Mike Rounds

Marco Rubio

Rick Scott

Tim Scott

Dan Sullivan

John Thune

Thom Tillis

Tommy Tuberville

Roger Wicker
Republicans John Barrasso, Ted Cruz, and Mitch McConnell, as well as Democrats Dianne Feinstein and John Fetterman, were absent.
On Thursday, the Senate voted 68–27 to advance legislation that would repeal the 1991 and 2002 Authorizations for Use of Military Force, or AUMFs, against Iraq.
The bipartisan legislation seeks to eliminate the authorizations that opened the door for the Gulf War under President George H.W. Bush, and the invasion of Iraq under President George W. Bush. Monday will mark 20 years since the 2003 invasion.
Repealing military authorizations has been an ongoing struggle. In June 2021, the House voted 268–161 to roll back the 2002 AUMF but the effort fizzled away in the Senate.
The 2001 AUMF after September 11, however, is untouched by this legislation. In its endorsement of the legislation to repeal the 1991 and 2002 authorizations, the Biden administration noted that the U.S. "conducts no ongoing military activities that rely primarily" on the two authorizations. "Repeal of these authorizations would have no impact on current U.S. military Operations," the administration notes.
The 2001 AUMF has been used to justify U.S. action in Afghanistan, Cuba, Djibouti, Eritrea, Ethiopia, Georgia, Iraq, Kenya, Libya, the Philippines, Somalia, Syria, and Yemen, among others.

Thursday's advancement to repeal the 1991 and 2002 authorizations follows the House last week rejecting a War Powers Resolution that would have required a withdrawal of all U.S. troops from Syria. Only 56 Democrats and 47 Republicans voted in favor of the resolution.
So while the move to advance the legislation is encouraging, it's worth noting that the advancement is largely symbolic. Which is not to say it's futile: Symbols, especially for a country in which so much violence has been spurred by them, are still significant. The last time Congress repealed a war authorization was in 1971 when it voted to repeal the Gulf of Tonkin Resolution that provided authority for the Vietnam War.
Ideally, the legislation will continue advancing, be signed by Biden promptly, and even galvanize support to confront the 2001 AUMF. At the same time, it's already been more than 30 years since the first authorization, and it still hasn't been repealed. Before considering ideal outcomes, pressure will need to be maintained at least to repeal this first pair of authorizations. For now, it's one bite at a time—it's just prudent we stay hungry enough to keep going.
The North Dakota Supreme Court has upheld up a decision to temporarily block the state's near-total abortion ban. The court also stated that residents have a "fundamental right" to abortions that preserve pregnant people's health.
The majority opinion denied Attorney General Drew Wrigley's request to remove a temporary injunction against a trigger law that would have enacted the state's abortion ban after the overturning of Roe v. Wade.
In 2007, the state passed a bill that would outlaw abortion within 30 days if the U.S. Supreme Court ever overturned Roe v. Wade. Last June, the bill was triggered by Dobbs v. Jackson, which indeed overturned the landmark case.
The Red River Women's Clinic, formerly the state's only abortion provider, sued Wrigley to stop the ban, claiming that the state's constitution grants residents the right to an abortion. Last summer, the clinic moved from Fargo, North Dakota, to nearby Minnesota town, Moorhead, where abortion remains legal.
A county judge had temporarily blocked the ban while the case continued. On Thursday, the Supreme Court upheld the county judge's injunction.
Wrigley had appealed to the Supreme Court, asking it to remove the injunction, on the grounds that the Red River Women's Clinic and other plaintiffs "failed to prove they have a substantial likelihood of success on the merits" that they would "suffer irreparable injury," that there would be "harm to other interested parties," or that "the effect on the public interest" weighs in favor of a temporary pause on the ban.
The Supreme Court denied Wrigley's appeal, claiming that, in fact, the clinic did demonstrate "likely success on the merits," conceding that "there is a fundamental right to an abortion" in "life-saving and health-preserving circumstances." The Court cited law as far back as 1877 to show precedent for legalized life-preserving abortion, in order to state that, in 2023, people have the right to such a procedure.

This post has been updated.

Treasury Secretary Janet Yellen on Thursday slammed the Republican plan for what the United States should do if it hits the debt limit.
The GOP has refused to lift the debt ceiling until major budget cuts are made. Instead, House Republicans introduced a proposal last week that would order the Treasury to prioritize payments on government debt and Social Security should the U.S. reach its debt maximum. Democrats have rejected the measure.
"Our systems are built to pay all of our bills on time and not to pick and choose which bills to pay," Yellen told the Senate Finance Committee. "There is a reason that treasury secretaries of both parties have rejected this incredibly risky and dangerous idea."
"I cannot give any assurances about the technical feasibility of such a plan," she continued. "It would be an exceptionally risky, untested, and radical departure from normal payment practices of agencies across the federal government."
Republicans have made clear they are willing to hold the debt ceiling hostage in order to cut costs in the federal budget. They proposed another plan last week that would slash funding for student debt relief, climate change policy, and IRS enforcement, among other things.
But Democrats, including President Joe Biden, have said they refuse to compromise on the debt ceiling, setting up a protracted battle. If the debate drags out too long, the United States could be in serious trouble. The government already hit the debt ceiling in January, and Yellen has previously warned the U.S. could default on its debt by the summer if the cap isn't raised.
"It's simply a recipe for economic and financial catastrophe to think we can pay some of our bills and not all of them," Yellen said Thursday.