By many measures, Philadelphia is as bad off today as 30 years ago. This is especially true of crime. Homicides remain at record numbers in each of the last three years, carjackings are rising, and open drug use remains a serious problem in some neighborhoods.
Looking around at the crime situation in Philadelphia, Chicago, and other liberal cities, you may think it's some kind of rocket science how to successfully address the crime crisis. But it's not. Criminal behavior must be dealt with through improving the way law enforcement operates, strengthening police-community cooperation, and offering jobs programs for young men to get them invested in the local economy—and get the local economy invested in them.
My own research highlighted three cities that successfully developed the building blocks for successful cooperation between cops and the communities they police. St Paul, St, Petersburg, and Newark all avoided the 2020 homicide spike thanks to effective community policing. How? With what Thomas Abt, a Senior Fellow, Council on Criminal Justice, calls focused deterrence.
Focused deterrence, also known as the Gun Violence Intervention or Ceasefire, creates partnerships among community residents, service providers, and law enforcement officials. And it's very effective. In Boston, Abt found, the strategy reduced youth homicide by 63 percent. In Oakland, it cut gun homicides by 31 percent and group involved shootings by 43 percent.
But more effective policing is only one prong of a successful approach to fighting crime. There are also long-term structural problems that must also be addressed, and in Philadelphia, those are bound up with the medical and educational sectors, and how they have operated in the city.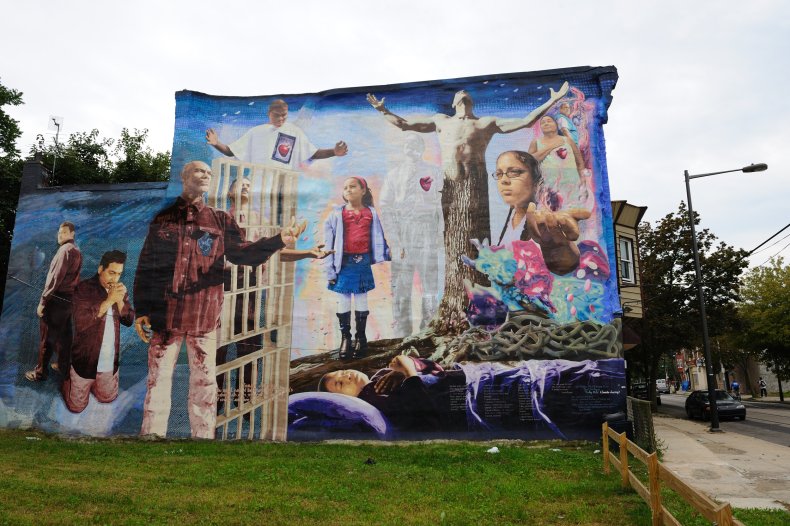 The medical and educational sectors hire many women from working-class families: nurses, public school teachers, clerical and administrative staff, medical technicians, etc. But the jobs available to Black working-class men are much more limited. They have limited access to the unionized building trades, and it is only security guard jobs that are abundantly available.
So it's not surprising that in the aftermath of the Great Recession, from 2010 to 2014, fully half of all Black men ages 20-34 years old were jobless—compared to 31 percent of white men. While employment has rebounded since then, young Black men in Philadelphia continue to have fairly dismal employment prospects, particularly among the large numbers who have behavioral and educational deficits.
These deficits are reflected in the dismal school performance of young Black children. Even before the pandemic, just 26 percent of Black fourth graders were performing at grade-level in reading and 32 percent in mathematics—in contrast to nationwide Black reading and math rates of 44 percent and 55 percent.
Indeed, the only cities with modestly worse Black student performance were Detroit, Cleveland, Milwaukee, and Baltimore. And with the closing of schools during the pandemic, an even smaller share of Black students is succeeding.
There are no magic bullets that can solve the problems that many young Black men face, but there are some clear initiatives that could be implemented. The poor educational outcomes to a modest degree are an outgrowth of the gun violence that afflicts many neighborhoods. The liberal sociologist Patrick Sharkey has documented how homicides cause youth trauma that adversely affects school performance. In The Beautiful Struggle, Ta-Nehisi Coates explained why, exploring how in crime-ridden neighborhoods, youth must develop a confrontational style to survive. He described the adverse consequences he experienced when refusing to fight back—something sociologists have found, too. But this attitudes creates behavioral problems in school that lead to the higher incidence of in-school fights and suspensions for Black students.
In other words, crime reduction would directly benefits the education of Black youth in struggling communities.
To further counteract the cycle of failure, universities and medical complexes must be more sensitive in their recruitment policies for the support staff they employ. The University of Pennsylvania is representative of the efforts medical schools have made to increase their Black representation in the students accepted and the professional personnel hired. In some cases, it enables prospective students to spend a summer and sometimes longer in preparatory classes so that they can succeed once they enter into the medical school or graduate science programs. These proactive efforts should be duplicated with efforts to increase the representation of Black men among its support staff.
Universities must provide high schools and postsecondary options for Black men who have limited academic skills. An emphasis on stackable certificates has been successful elsewhere and should be a central focus of efforts. Funding is crucial, since these occupational programs rarely qualify for Pell grants or other government funding.
Universities must recruit high school students and support appropriate certificate programs that enable them to gain a foothold in computer and medical related fields. Universities must set up summer intensive training programs for youth who have the desire but lack the skills to be immediately successful in these programs, just as they are doing for prospective medical and science students. Once an initial certificate is obtained, it should result in entry-level hirings with the understanding that subsequent certificates would be necessary for career advancement.
Only by combining effective policing with educational initiatives that reflect the Med-Ed sector's needs can Philadelphia's Black men prosper. And this will occur only when the university and medical community provide more proactive engagement so that their support staff fully reflects the Black community.
Robert Cherry is an American Enterprise Institute affiliate and author of The State of the Black Family: Sixty Years of Tragedy and Failure—And New Initiative Offering Hope (Emancipation Books).
The views expressed in this article are the writer's own.