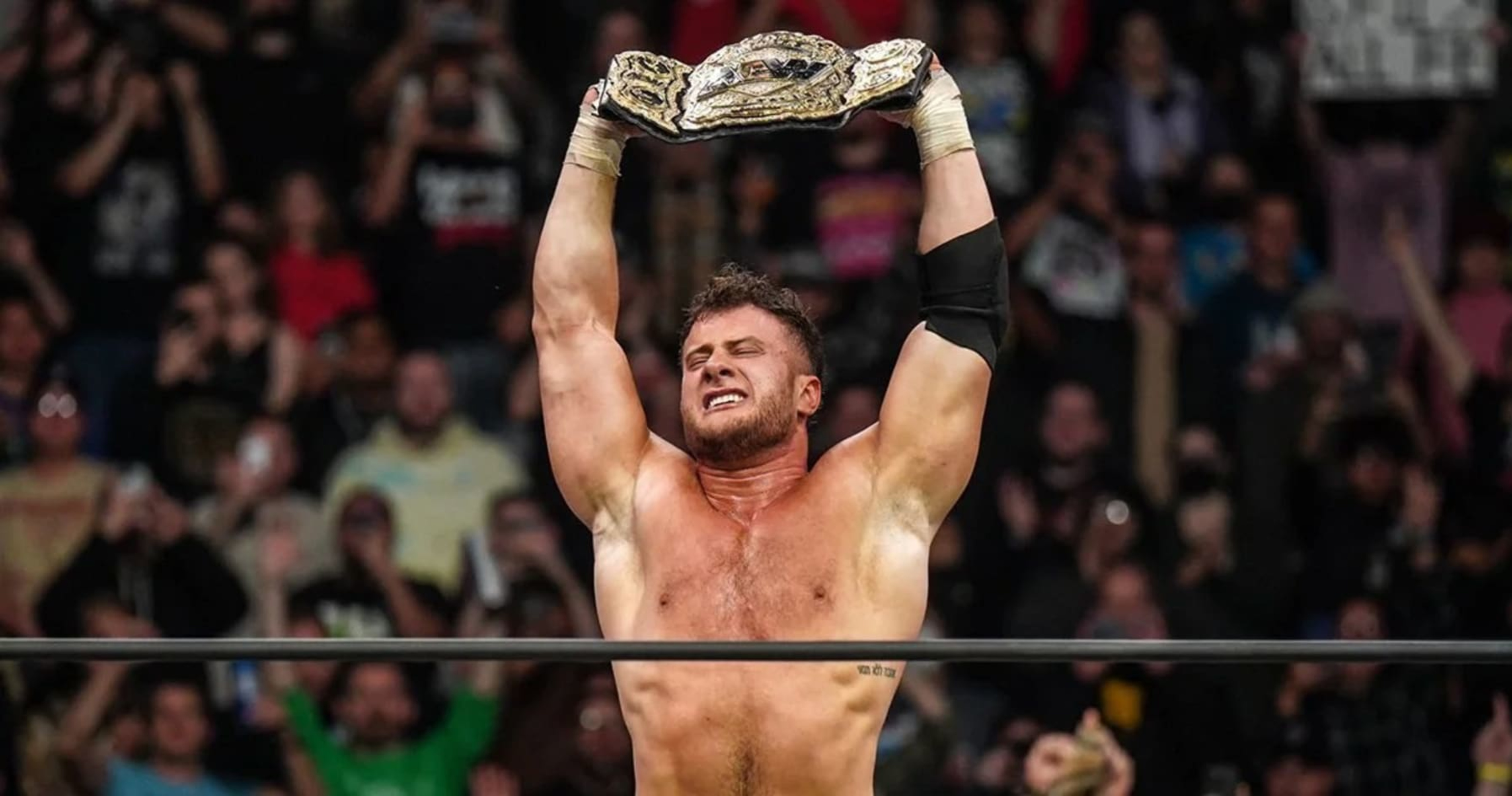 MJF's stock has soared to even greater heights after his epic performance at Revolution.Credit: All Elite Wrestling
MJF was already viewed as a top-tier talent with many memorable matches and moments on his All Elite Wrestling resume, but his instant classic with Bryan Danielson in the Revolution main event was enough to cement his status as the promotion's top dog.
It was a tall task for him and Danielson to stand out on a show full of excellent encounters. Iron Man matches tend to follow a formula that isn't conducive to lengthy pay-per-views, yet they had no issue maintaining a steady pace and keeping the crowd engaged throughout.
Danielson's ability to elevate anyone he shares the ring with played a significant role in the beauty of the bout. But even as AEW world champion, MJF had a lot to prove and everything to gain from his latest title defense.
The AEW original has long been looked at by a certain contingent of fans as someone who excels on the mic but is merely average in the ring. Being booked as an attraction who rarely wrestled backed up that claim for many.
This was despite him having outstanding outings against the likes of Darby Allin and CM Punk and showing the world on multiple occasions that he could deliver at the highest level. His Iron Man match with Danielson was the ultimate test, and he unsurprisingly passed it with flying colors.
AEW has held 30-minute matches in the past, most of which involved Danielson. Doubling that and putting it in the main event of a PPV was a real risk, but they were sure to make every minute matter.
The perfect pacing was a primary reason why the match never once dragged, an ultra-impressive feat in today's age of instant gratification and shorter attention spans.
For everything the decorated Danielson pulled out of his arsenal, MJF had an answer. This included a diving elbow off the top rope to the outside, a powerbomb through a table, and a top-rope Tombstone piledriver.
Resilient as ever, Danielson powered out, each time slower than the last. That only added to the drama and convinced fans that there was a chance of his championship being in jeopardy after all.
The AEW champ doesn't pride himself on being on aerialist, but his in-ring repertoire suggests otherwise. On the grandest stages, he willingly goes above and beyond to invalidate his critics and never misses.
All of MJF's moves were incredibly calculated as well. By getting himself intentionally disqualified early on, he took advantage by beating Danielson and then immediately pinning him for a second straight fall.
Tapping out after grabbing the bottom while in a submission was also brilliant and not something seen in most matches.
What truly put it in Match of the Year contention was the fantastic finishing sequence. The two were tied with three falls apiece up until the 60 minutes expired, and once sudden death was declared, both men kicked it into another gear and never let up.
It was an electric atmosphere in San Francisco as the two gifted athletes exchanged finishers, complete with Danielson leading the crowd into a "Yes!" chant frenzy for the first time in his AEW career.
As the quintessential villain, he resorted to his roots as a cheater when all else failed. It was a simple strategy, but it's not as if the MJF character is concerned with satisfying the masses by winning in clean fashion.
MJF mastering his heel craft by blasting the oxygen tank over Danielson's skull on the apron before forcing him to submit to his own submission maneuver made for an appropriate ending.
In no way did MJF need to be "carried." He not only held his own against one of the best in the business, but he also emerged with his hand held high in victory once it was over.
B/R Wrestling @BRWrestling

MJF ELBOW DROP THROUGH THE TABLE.
Truthfully, it was a performance The Salt of the Earth needed, especially now that he finds himself in such a prominent spot as AEW world champion.
Prior to this point, his title run had been going well but was missing that extra spark to feel special. He couldn't continue atop the company's food chain without first eliminating any notion that he isn't capable of creating magic inside the ropes.
Doing just that at Revolution brings forth new challenges for him to conquer.
AEW President Tony Khan referred to the Revolution main event as one of the company's greatest matches to date in the post-PPV media scrum, which means the bar has been raised substantially for all future MJF title defenses and that he'll be held to a much higher standard going forward.
In some not-so-shocking news, MJF is in fact an exceptional in-ring competitor. He has silenced his doubters for now, but that won't stop him from throwing it back in the faces of fans every chance he gets and adding to his growing legacy.
---
Graham Mirmina, aka Graham "GSM" Matthews, has specialized in sports and entertainment writing since 2010. Visit his website, WrestleRant, and subscribe to his YouTube channel for more wrestling-related content.