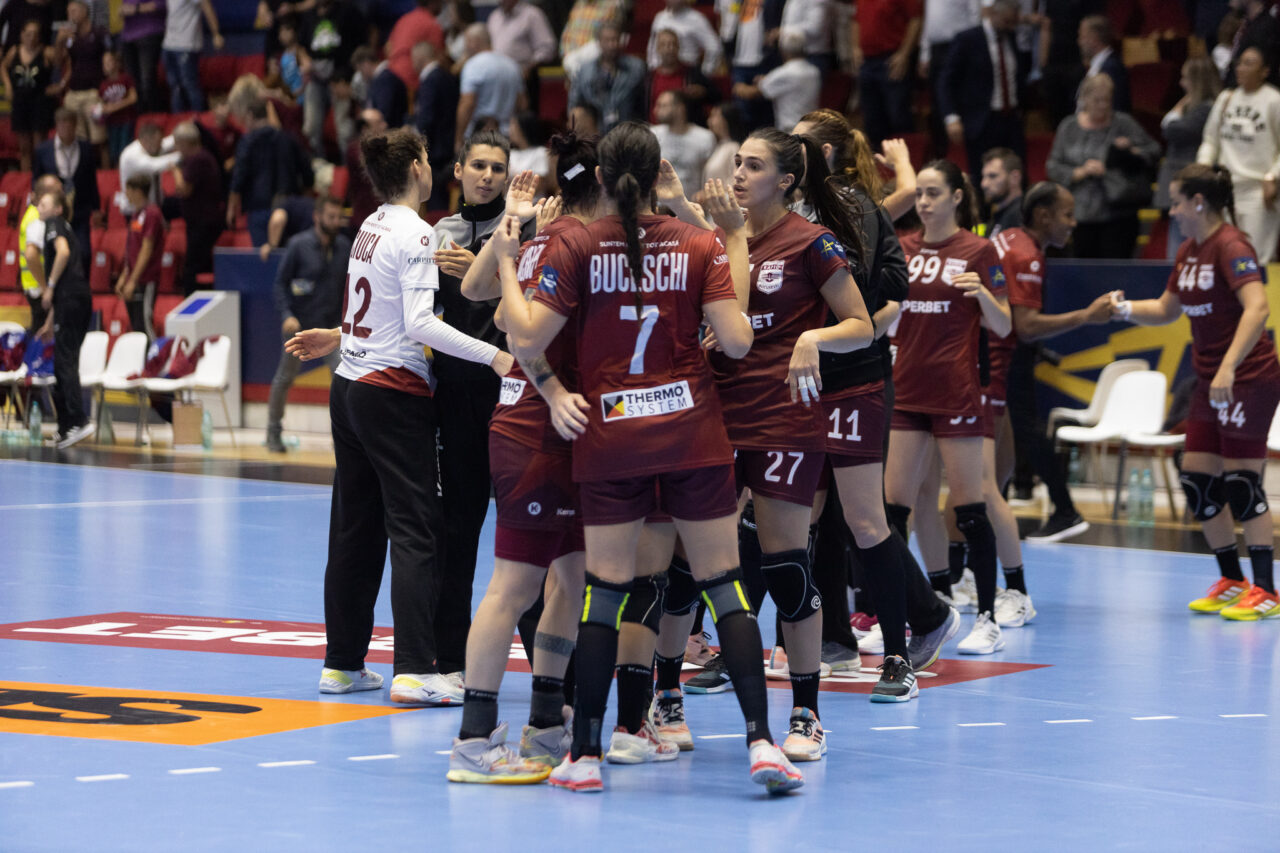 Echipa de handbal feminin Rapid a fost întrecută de formaía slovenă Krim Mercator Ljubljana, cu scorul de 29-24 (12-13), duminică, în deplasare, într-un meci din prima manşă a play-off-ului Ligii Campionilor la handbal feminin.
Campioana României, antrenată de Kim Rasmussen, a făcut o primă repriză excelentă, dar a evoluat slab după pauză şi a pierdut la o diferenţă considerabilă, însă meciul retur poate fi deschis oricărui rezultat. În prima repriză, bucureștencele au condus cu 10-5.
Orlane Kanor a marcat 5 goluri pentru Rapid, Eliza Buceschi 4, Alicia Fernandez Fraga 4, Sorina Grozav 3, Estavana Polman 3, Jennifer Gutierrez Bermejo 2, Danila Jose Carlos Azenaide 2, Lorena Ostase 1.
Ivana Kapitanovic a apărat 5 aruncări (33,33%), iar Diana Ciucă 2 (15,38%).
Rapid, eșec cu Krim Mercator Ljubljana în optimile Ligii Campionilor! A condus 10-5 în prima parte, dar a cedat categoric pe final
Pentru Krim au înscris Jovanka Radicevic 8 goluri, Tjasa Stanko 8, Daria Dmitrieva 4, Sanja Radosavljevic 4, Barbara Lazovic 2, Natasa Ljepoja 1, Aleksandra Rosiak 1, Maja Svetik 1.
PLAYER OF THE MATCH: Gratulations! 👏 Barbara Elisabeth Arenhart 👏 played a key role in the #MOTW between @RKKrim and CS Rapid Bucuresti! #ehfcl #POTM pic.twitter.com/vo0pEd1F26

— EHF Champions League (@ehfcl) March 19, 2023
În celelalte meciuri tur din optimi s-au înregistrat rezultatele:
Storhamar – Odense 22-30
Buducnost – FTC Budapesta 24-28
Brest –

Team Esbjerg
Returul partidei de la Ljubljana este programat duminica viitoare, de la ora 17.00, în Sala Polivalentă.
Dacă trece de optimi, Rapid se va duela cu Vipers Kristianstad, iar CSM Bucureşti va întâlni Brest sau Team Esbjerg.
Victorie mare pentru SCM Râmnicu Vâlcea în EHF European League
SCM Râmnicu Vâlcea a învins echipa daneză Nykobing Falster Handbold, cu scorul de 32-29 (16-14), sâmbătă seara, pe teren propriu, în prima manşă a sferturilor de finală ale competiţiei feminine de handbal EHF European League.
Irina Glibko a marcat 7 goluri pentru vâlcence, Elin Hansson a reuşit 6, Jovana Kovacevic 6, Asma Elghaoui 5, Daria Bucur 3, Asuka Fujita 3, Tanja Asanin 2.