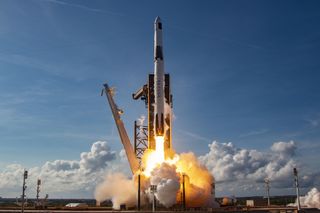 A SpaceX Falcon 9 rocket launches the CRS-26 resupply mission to the International Space Station for NASA on Nov. 26, 2022.
(Image credit: SpaceX)

SpaceX will launch its next cargo mission to the International Space Station (ISS) next week, if all goes according to plan.
Elon Musk's company is targeting Tuesday (March 14) for the launch of CRS-27, which will send a robotic SpaceX Dragon freighter to the orbiting lab for NASA. 
The Dragon is scheduled to lift off atop a Falcon 9 rocket Tuesday at 8:30 p.m. EDT (0030 GMT on March 15) from Launch Complex 39A at NASA's Kennedy Space Center in Florida, agency officials announced on Thursday (March 9). It will arrive at the ISS around 7:07 a.m. (1207 GMT) next Thursday (March 16).
This plan is not set in stone, however. It depends on the on-time return to Earth of SpaceX's Crew-5 astronaut mission, which is scheduled to undock from the ISS early Saturday morning (March 11) and splash down that same night. 
Whenever CRS-27 lifts off, you can watch it here at Space.com, courtesy of NASA and SpaceX. We'll also carry footage of Dragon's ISS rendezvous and docking.
Related: Facts about SpaceX's Dragon capsule
CRS-27 is so named because it's the 27th uncrewed mission to the International Space Station that SpaceX will fly under its commercial resupply services contract with NASA.
Dragon will carry up a variety of supplies, hardware and scientific experiments for the ISS crew on CRS-27. Among the science gear is a student-built project that could make it easier to film in space and a Japanese investigation called Tanpopo-5, which  "studies the origin, transportation and survival of life in space and on extraterrestrial planets," NASA officials wrote in an update on Thursday (opens in new tab).
"Dragon will also deliver the final two experiments from the National Institutes for Health and International Space Station National Laboratory's Tissue Chips in Space (opens in new tab) initiative," they added. "Both studies, Cardinal Heart 2.0 (opens in new tab) and Engineered Heart Tissues-2 (opens in new tab), use small devices containing living cells that mimic functions of human tissues and organs to advance the development of treatments for cardiac dysfunction."
Dragon is one of three robotic cargo ships currently servicing the ISS. The other two — Russia's Progress vehicle and Cygnus, which is built by Virginia-based company Northrop Grumman — are expendable, burning up in Earth's atmosphere at the end of their missions. 
Dragon, however, is designed to survive reentry, haul scientific experiments and other gear back down to Earth, and fly again. CRS-27's capsule is expected to spend about a month at the ISS before heading home, NASA officials said in Thursday's update.
CRS-27 will take to the skies less than two weeks after SpaceX's latest astronaut launch to the ISS, the Crew-6 mission, which lifted off on March 2. SpaceX flies these astronaut missions under a different NASA contract, using Crew Dragon capsules, a different variant than the vehicle that makes robotic resupply flights. 
Mike Wall is the author of "Out There (opens in new tab)" (Grand Central Publishing, 2018; illustrated by Karl Tate), a book about the search for alien life. Follow him on Twitter @michaeldwall (opens in new tab). Follow us on Twitter @Spacedotcom (opens in new tab) or on Facebook (opens in new tab). 
Join our Space Forums to keep talking space on the latest missions, night sky and more! And if you have a news tip, correction or comment, let us know at: community@space.com.