Kentucky Gov. Andy Beshear bows his head as he delivers remarks on the mass shooting at the Old National Bank on Monday in Louisville, Kent...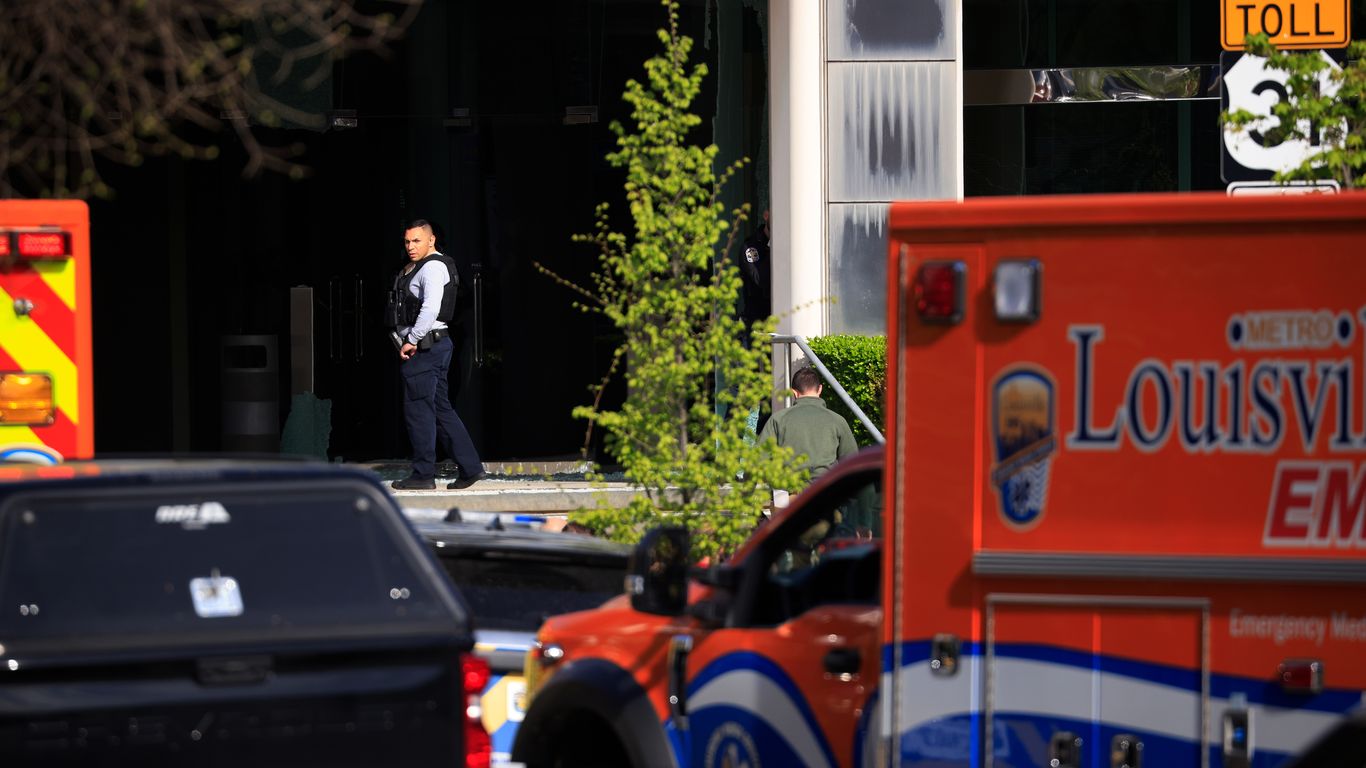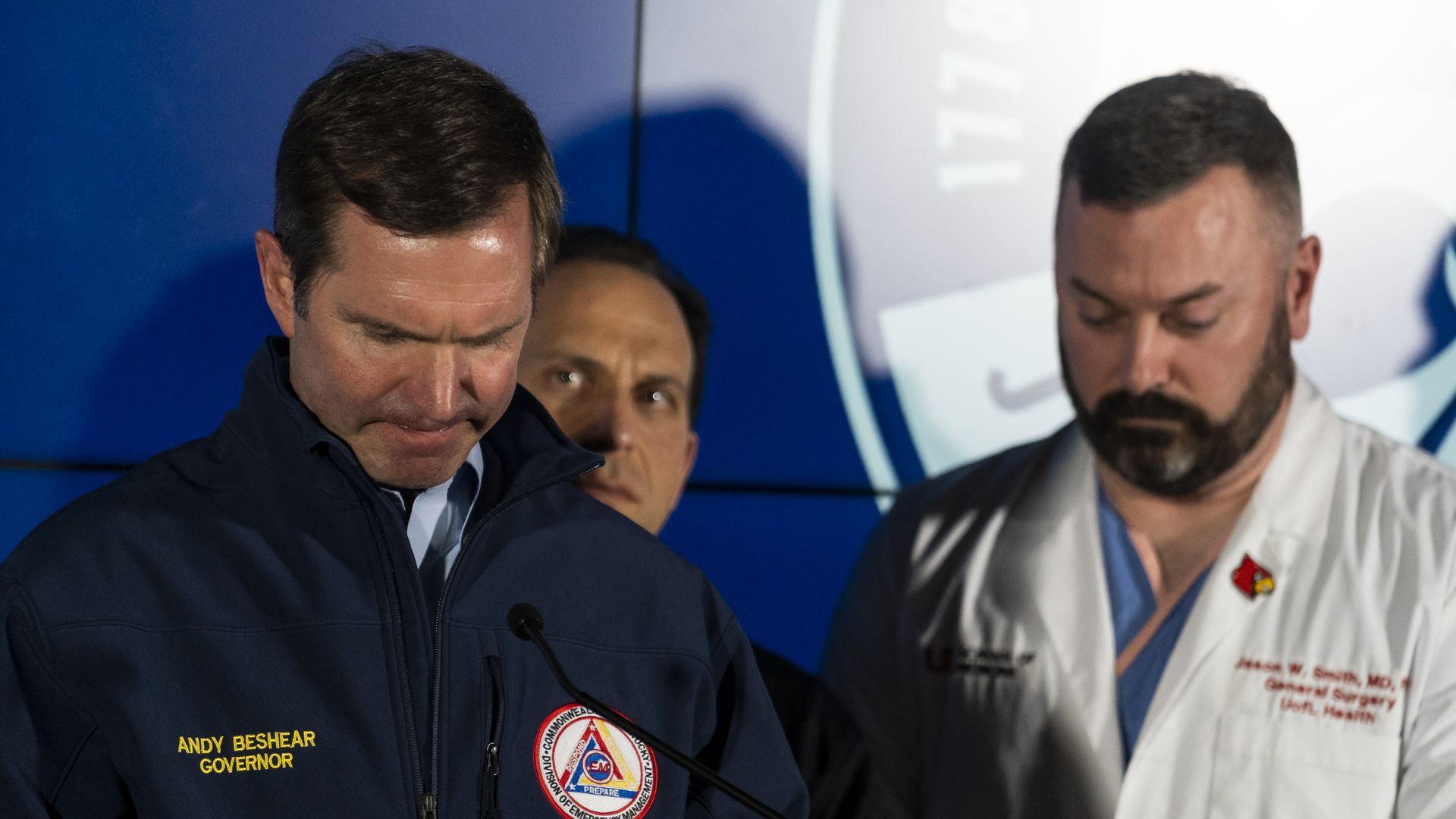 Kentucky Gov. Andy Beshear bows his head as he delivers remarks on the mass shooting at the Old National Bank on Monday in Louisville, Kentucky. Photo: Michael Swensen/Getty Images
A shooting at a Louisville, Kentucky, bank on Monday has left at least five people dead and eight others injured, including two who were in critical condition.
The latest: One of those wounded in the mass shooting at the Old National Bank, Deana Eckert, 57, later died, the Louisville Metro Police Department said Monday night.
Authorities confirmed the shooting was live-streamed on Instagram. Instagram's parent company Meta said in a statement to media that it "quickly removed the livestream of this tragic incident this morning."
The big picture: The LMPD released the names of the four people who died in the shooting earlier Monday: Joshua Barrick, 40; Thomas Elliot, 63; James Tutt, 64; and Juliana Farmer, 45.
Authorities said at a Monday afternoon briefing that nine victims were taken to a local hospital, three with critical injuries. Eckert died in the hospital.
Zoom in: Police identified the suspect as a 25-year-old white man, who was employed at the bank.
Interim police chief Jacquelyn Gwinn-Villaroel said at the briefing "that the suspect was live-streaming and unfortunately, that's tragic. To know that that incident was out there and captured."
Zoom out: Gov. Andy Beshear (D) said he lost one of his "closest friends, Tommy Elliot," in the shooting, which comes just two weeks after a mass shooting at a school in Nashville killed six people, including three children.
Beshear ordered flags throughout the state to fly at half-staff until Friday evening to honor the victims of the mass shooting.
What happened: Louisville police said they began receiving calls around 8:30am about an "active aggressor" at the bank, which is near Louisville Slugger Field in downtown Louisville.
FBI Louisville special agents responded to the scene of the shooting and are assisting law enforcement.
Police said they exchanged gunshots with the suspected shooter, who was killed in the exchange.
"We responded in a timely, quick fashion and we stopped the threat so that no additional loss of life could be taken," Gwinn-Villaroel said.
At least two officers were shot during the exchange, including Nickolas Wilt, 26. Wilt underwent brain surgery after the shooting and is in critical but stable condition, authorities said.
Wilt graduated from the police academy on March 31, per the interim police chief.
What they're saying: President Biden in a statement Monday condemned the shooting and called on Republicans in Congress to take legislative action.
"Once again, our nation mourns after a senseless act of gun violence – Jill and I pray for the lives lost and impacted by today's shooting," Biden wrote in a tweet.
Senate Minority Leader Mitch McConnell (R-Ky.) said Monday that he and his wife, Elaine Chao, who served in the cabinets of several Republican presidents, "are devastated by the news coming out of Louisville this morning."
"Thank you to LMPD and our first responders for your bravery at the scene," he wrote in a tweet.
Old National Bank said in a statement on Facebook that the members of the bank's executive team are onsite in Louisville.
"As we await more details, we are deploying employee assistance support and keeping everyone affected by this tragedy in our thoughts and prayers," Old National CEO Jim Ryan said in a statement.
Go deeper: Listen to the Axios Today podcast, where Margaret Talev and the Trace's Jennifer Mascia dive deeper into the Louisville mass shooting and Kentucky's GOP-dominated legislature.
Editor's note: This story has been updated with new details. This includes news that a fifth person, not including the shooter, later died of their injuries.