A bride-to-be has received criticism online after sharing her hurt at a request her maid-of-honor had asked of her before her big day.
The maid-of-honor revealed in a social media post that the bride, a woman who she has been friends with since childhood, had turned down her request to allow her 3-year-old daughter to nap in her honeymoon suite for an hour during the jam-packed wedding schedule.
"The bride is having three weddings, one in the U.S. and two big ones in London. I am expected to be in attendance or helping her from 06.00 that day until the wedding ends in the early hours of the next morning. My husband will be coming with my daughter to the church from 10.00 until the end of dinner. She is the flower girl so she cannot come any later. She normally takes her nap at 13.00 for approximately an hour after lunch," the maid-of-honor wrote on Mumsnet.
"I know that the bride was offered a honeymoon suite so asked if my daughter could nap there for an hour during one of the intermissions. She seemed very upset and said no. I didn't take it personally and moved on quickly and booked a hotel room nearby in another building. She's now been telling everyone how cheeky and entitled I am," the woman added.
Unsure whether her friend has transformed into 'bridezilla' or if she had overstepped the mark by asking to use her honeymoon suite, the woman asked internet users to assess the situation. She shared in the post that she has apologized to her long-time friend, but that their relationship now seems damaged because the bride-to-be won't move past the situation.
What Do The Comments Say?
Since it was shared to the social media platform on April 4 by @EmotionalStorm, the Mumsnet post has been commented on by over 300 users, the vast majority of which have slammed the bride-to-be for her response.
One user commented: "Your friend is awful. Has she always been so self centered?"
"This woman is completely obsessed with herself," another user wrote. "Also your daughter's life will not fall apart because her nap is on her father's knee at a reception or indeed if she doesn't have a nap that day," they added.
"I would be backing out, and not apologizing for doing so," a different Mumsnet user shared.
The post can be seen here.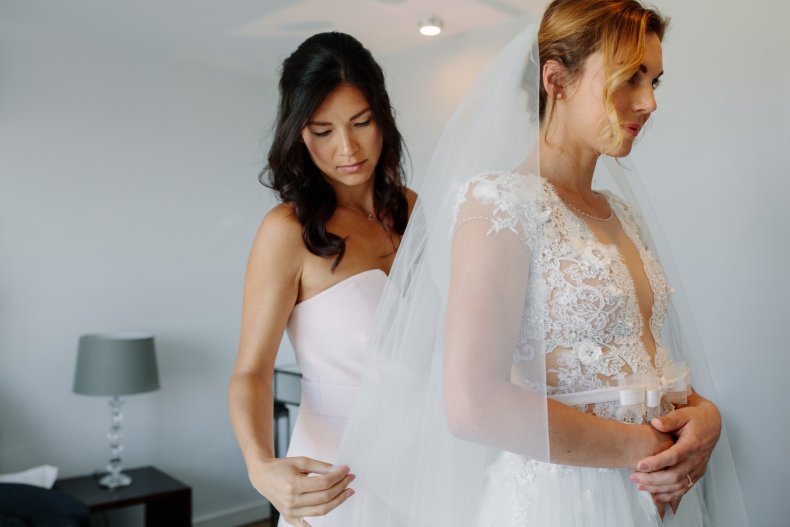 Can The Pair Reconcile?
Certified etiquette professional Lisa Mirza Grotts told Newsweek that she feels that the relationship between two friends can be salvageable if the right communication tools are applied, and if both parties are willing to move past any existing issue which had fractured the dynamic.
"We all have coping mechanisms when it comes to betrayal, but the question is a first-world problem. Who of us hasn't hurt or been hurt? When this happens, acknowledge, hopefully build back trust, and then move on. It's called life, something we humans do on a regular basis," Grotts said.
"It's easy to get caught up in someone else's 'head space' so it's ok to recognize your emotions and to be angry. In my opinion, it's also ok to give yourself space by drifting away until there is resolution," she added.
While some Mumsnet users told the woman that she should consider backing out of the wedding, the maid-of-honor made it clear in her post that she's keen to reconcile with her old friend. Whether the bride-to-be will ever come around is uncertain.
How Could The Pair Reconcile?
Patty Bates-Ballard, author of the book ACE-ing Conflict, which outlines conflict strategies that both friends and couples can put to use, told Newsweek: "Differences of all kinds can be resolved through a three-step process called ACE: Ask, Clarify, and Express."
Breaking Down The ACE Method:
1. Ask a question. The question slows down communication and draws the other person in. After the question is asked, listen to the answer.
2. Clarify their answer by restating what you heard and checking for feelings. These first two steps can open the window of communication. When we are open to listening first, the other person often becomes more willing to hear us.
3. Express what we feel, believe and want. This way, we don't have to choose whose wants and needs to prioritize. Everyone's wants and needs can be explored and we can find a mutually satisfying resolution.
Bates-Ballard argues that using the ACE technique can grow and deepen both platonic and romantic relationships.
Maybe the ACE method would help one mother who says her son won't talk to her for not attending his wedding, or a dad who prioritized his wife over his daughter's wedding, or the man who got into an argument with his brother on his wedding day, for making a "huge fuss" over his wife going into labor because it "disrupted" his event.
Another bride was praised online for choosing her brothers to walk her down the aisle instead of her father,
Has a wedding come between your relationship with a loved one? Let us know via life@newsweek.com. We can ask experts for advice, and your story could be featured on Newsweek.