With questions still remaining about his reelection bid, President Joe Biden's approval rating remains underwater in most polls, casting do...
With questions still remaining about his reelection bid, President Joe Biden's approval rating remains underwater in most polls, casting doubt over his viability against a Republican challenger in 2024.
In averages compiled by poll aggregator FiveThirtyEight, Biden's approval rating currently stands at just under 43 percent. Another average by RealClearPolitics is only slightly better, at 44 percent. On an individual basis, some pollsters—like Quinnipiac University—appear to show a president in trouble, reporting his approval sitting at just 38 percent among registered voters.
One pollster, however, stands apart. And it's a surprising one. While Biden's approval ratings are low across the board, some of his best numbers actually come from Rasmussen Reports, a conservative-leaning pollster oft-labeled as former President Donald Trump's "favorite."
According to a recently released Rasmussen poll, Biden's approval rating is actually somewhere around 49 percent, showing a country evenly divided over his job performance midway through his first term in office. And since the beginning of the newly minted Republican majority in Congress, Rasmussen has consistently given Biden higher marks than most other pollsters in their surveys.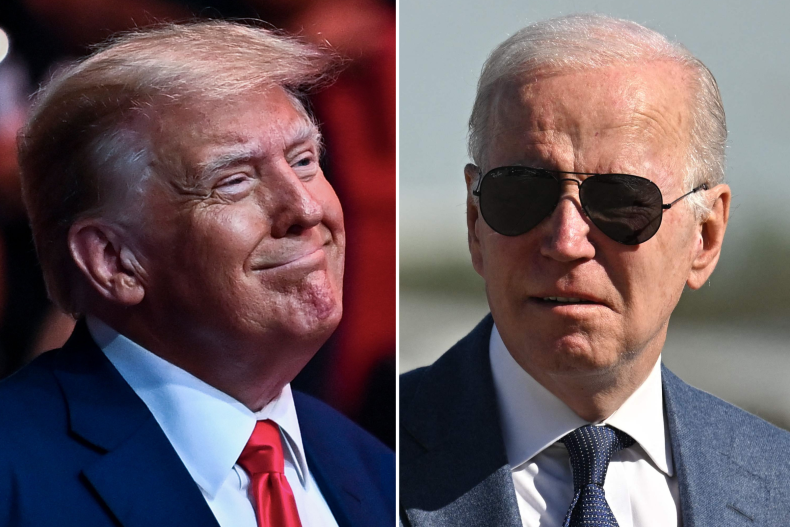 It's an obvious plus for Biden as his team has continued to delay an announcement for re-election amid languishing poll numbers and questions about his age. While Democrat Robert Kennedy Jr. has already launched a longshot bid for the Democratic nomination in 2024, others—like California Governor Gavin Newsom—have begun to build their national profiles in anticipation of what some observers believe could evolve into a presidential campaign that could provide a formidable challenge to Republicans.
The reason for his high approval is not as complicated as one might think though, Rasmussen's Mark Mitchell told Newsweek over email about the recent polls. Rather than focusing on the public writ large, he said, the pollster is focusing its numbers on people they believe will actually vote—making their numbers more likely to see major swings based on the mood of the country.
At the start of the Republican majority in the U.S. House of Representatives, Biden's approval rating in Rasmussen polls was closely aligned with the current aggregated averages compiled by RealClearPolitics and FiveThirtyEight, sitting at around 44 percent.
However, while those averages have remained steady, Rasmussen's poll numbers have seen a steady increase in Biden's approval rating among voters, even reaching as high as 50 percent in some of its surveys.
The reason, Mitchell said, might simply be because those who are most likely to vote aren't paying as close attention to issues as those who closely follow politics.
"It's mostly just very opinionated people answering polls right now, and people with more time on their hands, across the board," he said. "Also Biden's approval really isn't the best tracking question anyway…I think that is currently Biden vs. Trump 2024 rematch."
That's where Rasmussen starts to separate itself.
Unlike other pollsters, Rasmussen found Biden—while relatively popular among likely voters—actually trailed behind Trump by 7 points, as well as performing poorly against prospective Republican challenger Ron DeSantis in a potential head-to-head matchup in 2024. Trump also had slightly higher approval ratings than Biden, at 50 percent, compared to just 37 percent in FiveThirtyEight's averages.
This runs counter to some predictions nationally, which showed Trump's unfavorable numbers in battleground states significantly lower than Biden's in 2022 existing polling—a bad sign for the former president's viability in a competitive 2024 rematch in the general election.
Polling in other battleground states, meanwhile, shows DeSantis polling substantially better among independents than Trump in a general election, even as he lags behind him in the primary, making the case that the country as a whole would not necessarily lean toward a Republican candidate as Rasmussen claims.
Mitchell challenged that the perception of their numbers as too right-leaning came "unjustly" from the fact that Rasmussen was "among the few pollsters that gave Trump a chance in 2016," noting they correctly overpredicted the potential for a Democratic "blue wave" in 2018.
However, he did note the firm did have a 1.2-point Republican bias in this past midterm election cycle, resulting in the firm adjusting its current polls to favor Democrats by an additional point in its generic poll number.
"I'm just trying to be accurate," Mitchell said.