6:57 AM UTC SAN FRANCISCO — Prior to Tuesday night's game, manager Gabe Kapler met with left-hander Taylor Rogers to discuss his evolv...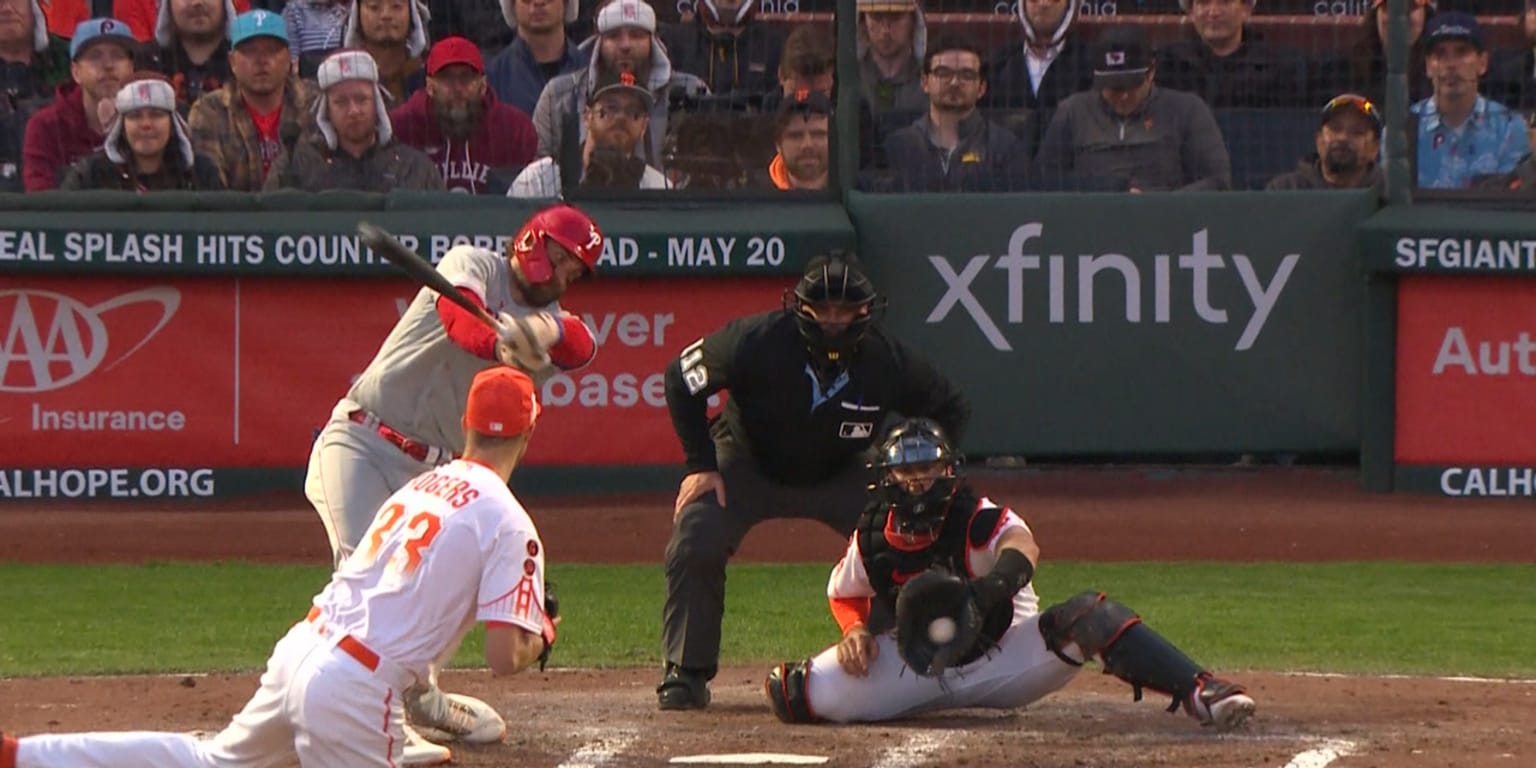 SAN FRANCISCO — Prior to Tuesday night's game, manager Gabe Kapler met with left-hander Taylor Rogers to discuss his evolving role in the bullpen. The Giants had envisioned Rogers taking down late innings after signing him to a three-year, $33 million deal over the offseason, but he found himself pitching earlier in games than expected after a shaky start to the year.
The change required a bit of a mindset shift for Rogers, who later embraced the challenge by recording some of the biggest outs of the game in the fourth inning of the Giants' 4-3 win over the Phillies at Oracle Park.
Rogers came on in relief of Alex Cobb, who lasted only 3 1/3 innings in his shortest start of the year, and retired Bryce Harper and Nick Castellanos to leave the go-ahead run stranded at third. His performance kicked off a big night for San Francisco's bullpen, which delivered 5 2/3 innings of one-run ball to help the Giants take the first two games of this three-game series.
"Cobb's picked us up so many times this year, so it's kind of cool to just return the favor," Rogers said. "We've all known that you have those days where you just struggle. Respect to him for grinding through that struggle and keeping the game close. I know he was happy with the job that we did."
Cobb entered Tuesday with a National League-best 1.70 ERA, but he didn't have his best command against the Phillies, issuing a career-high-matching five walks and allowing five hits. The 35-year-old right-hander managed to work out of jams in the first three innings before the Phillies scored twice in the fourth to knock him out of the game. 
"Bad day," Cobb said. "I don't remember the last time I had five walks in a game. Pretty embarrassing. The ball wasn't going where I wanted it to go. Fortunately I had some hard-hit balls hit at people and they made plays, but it was definitely a grind."
Brandon Marsh and Kody Clemens singled in the fourth to put a pair of runners on for Bryson Stott, who followed with a third consecutive single to right field to cut the Giants' lead to 2-1. Cobb then attempted to pick off Stott at first base, but his move was ruled a balk by first-base umpire Rob Drake, allowing Clemens to score the tying run from third. 
An irate Cobb took exception to the call, which cannot be argued, and had to be held back by first baseman LaMonte Wade Jr. while Kapler ran out to the field to speak with Drake and try to defuse the tension.
"They said I moved my front foot first," Cobb said. "It was pretty simultaneous. Maybe the front foot went a little bit before the back. But I've been doing it my whole career and haven't been called. Maybe once. I can't really remember. But I think by the letter of the law, it's probably a balk."
Cobb returned to the mound and struck out Turner swinging on a curveball, but the pitch got past catcher Joey Bart, allowing Turner to reach on a wild pitch and put runners on the corners with one out.
With Cobb's pitch count at 86, Kapler opted to pull his veteran starter and turn to Rogers, who struck out Harper swinging on a sweeper and then coaxed an inning-ending groundout from Castellanos. 
"Obviously, we don't anticipate having him come in and getting big outs for us early in games, but it shows kind of how resilient he is and how strong-minded he is that he's willing to come in in a game like that and get some big outs for us," Kapler said.
After posting an 18.90 ERA through his first six appearances, Rogers hasn't allowed an earned run since April 12, the same day he trashed his glove following a disastrous outing against the Dodgers at Oracle Park. 
"When you're a new person somewhere they kind of create a narrative, and I knew that that wasn't me," Rogers said. "So I just grabbed a new Rawlings and started over."
John Brebbia followed with 1 2/3 scoreless innings before passing the baton to Rogers' twin brother, Tyler Rogers, who fired two clean innings to lower his ERA to 2.45 on the season. Closer Camilo Doval surrendered a two-out solo shot to Kyle Schwarber in the top of the ninth, but he recovered to strike out J.T. Realmuto for the final out of the game.
"Huge," Cobb said. "It could have been a night where things completely unraveled. … For them to pick me up, come in, throw strikes, throw multiple innings, I gave every one of them a hug when they came in and thanked them."