Oakland has 7 last-at-bat wins and 4 walk-offs among 10 total victories 7:48 AM UTC OAKLAND — Ryan Noda's elite plate discipline garn...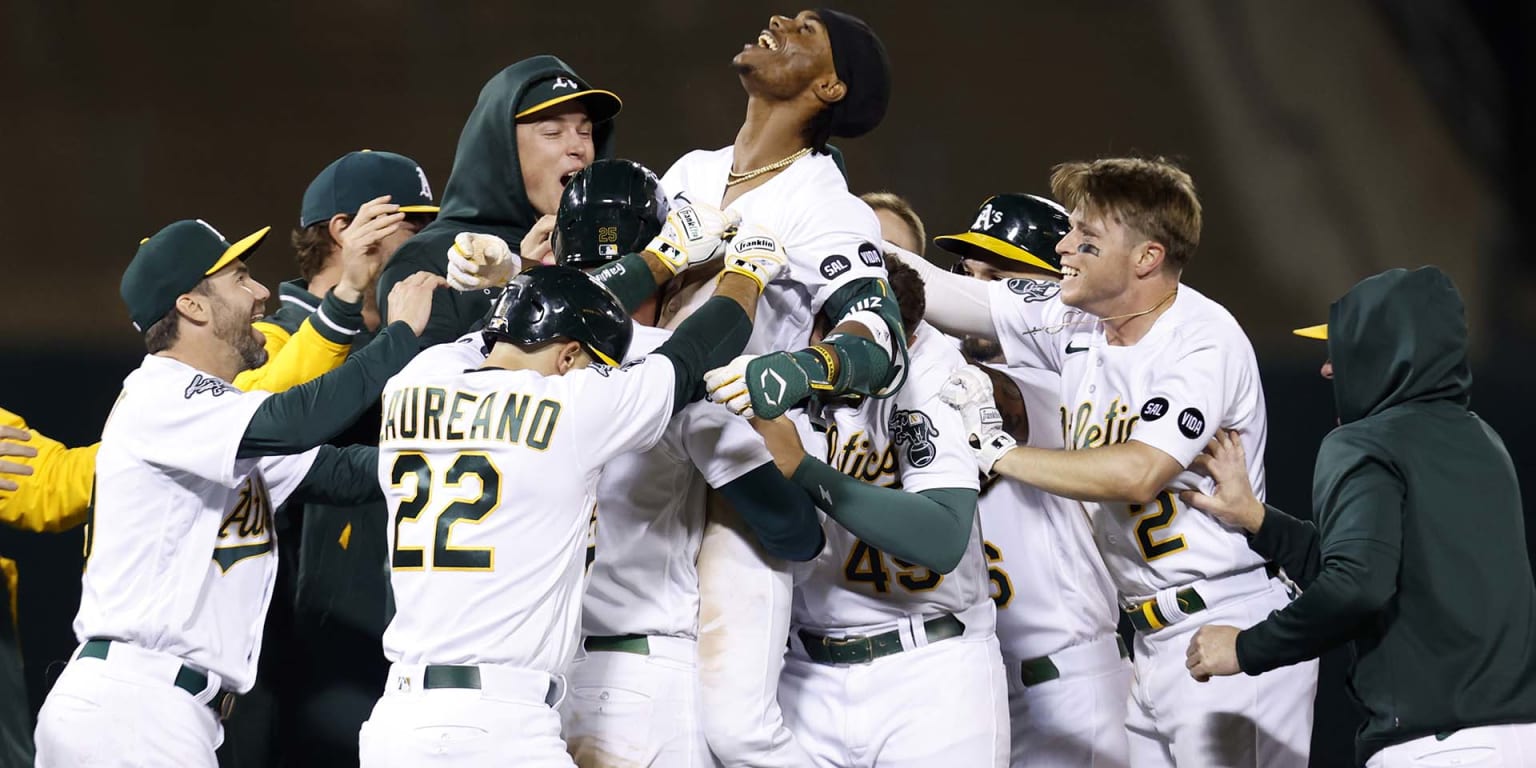 Oakland has 7 last-at-bat wins and 4 walk-offs among 10 total victories
7:48 AM UTC
OAKLAND — Ryan Noda's elite plate discipline garnered most of the A's attention early into his big league career. As he showed on Tuesday night, though, power is another attractive tool in his bag.
A four-hour, 12-inning marathon at the Coliseum that ended in a 9-8 A's walk-off victory over the D-backs on Esteury Ruiz's bases-loaded single was made possible by Noda, who launched a clutch game-tying grand slam in the seventh.
Noda's first career slam put him in some impressive company. He became the first A's player to hit a two-out, game-tying grand slam since Jason Giambi on May 22, 1997, at Texas. Noda is also just the sixth A's rookie to hit a grand slam since 2000. Kevin Smith previously did it on May 3, 2022.
"Ryan is awesome," said A's shortstop Nick Allen, whose career-high three-hit night included his first home run of 2023, a game-tying solo shot off the left-field foul pole in the third. "This guy has a plan and approach every time he gets in that box, and he executed it right there. So awesome to see Ryan do his thing."
Entering the seventh trailing Arizona 8-4, the A's set the table with three consecutive two-out singles by Brent Rooker, Aledmys Díaz and Carlos Pérez. Coming to the plate for his second at-bat of the night after entering the game as a pinch-hitter, Noda watched one fastball from Kyle Nelson go high for a ball before unloading on a hanging slider for a 424-foot blast to left-center.
"It was a big hit for us and a momentum-changer in the game," manager Mark Kotsay said. "It was good to see him drive a baseball, especially to the middle of the field. It shows that he's on time."
The A's were ecstatic to select Noda in the Rule 5 Draft this offseason. A large draw was the thump in his bat on display throughout his career in the Dodgers' organization, with 94 homers and 107 doubles over five Minor League seasons.
So far in the Majors, Noda's patience has been a standout trait, as his .402 on-base percentage and 28 walks entering Tuesday led all MLB rookies. With the grand slam his fourth homer of the season, Noda provided a reminder that there is more to his offensive game than just selectivity at the plate.
"We needed four runs and one swing got us four," Noda said. "I'm definitely grinding to get that power back. It's slowly coming back. Once it fully clicks for me in the box, it'll be fun."
Wins have certainly been hard to come by for these A's, who improved to 10-34 on the year with the win — their fourth walk-off. When they do come out on top, though, their victories are typically a collective effort. This one was no different.
Noda was one of a few key contributors. Rooker, who remains statistically the best hitter in baseball in several offensive categories, was bumped up to the No. 2 spot in the lineup for the first time in 2023 and responded by reaching base four times.
Ruiz also notched his second walk-off hit of the season and is now 19-for-43 (.442) with runners in scoring position.
On the pitching side, Austin Pruitt held it down out of the bullpen with three hitless innings, all of which came in extras.
"If you're going to say what stands out, Pruitt's night coming in and throwing three innings there holding them to zero runs is pretty remarkable," Kotsay said. "It feels like every win has been a win where we talk about using the whole team. Tonight was the same. Several guys had good nights."