Jack Murray May 14, 2023 Ronald Cortes/Getty Images The first XFL champion since 2001 has been crowned, and to say it was an upset ...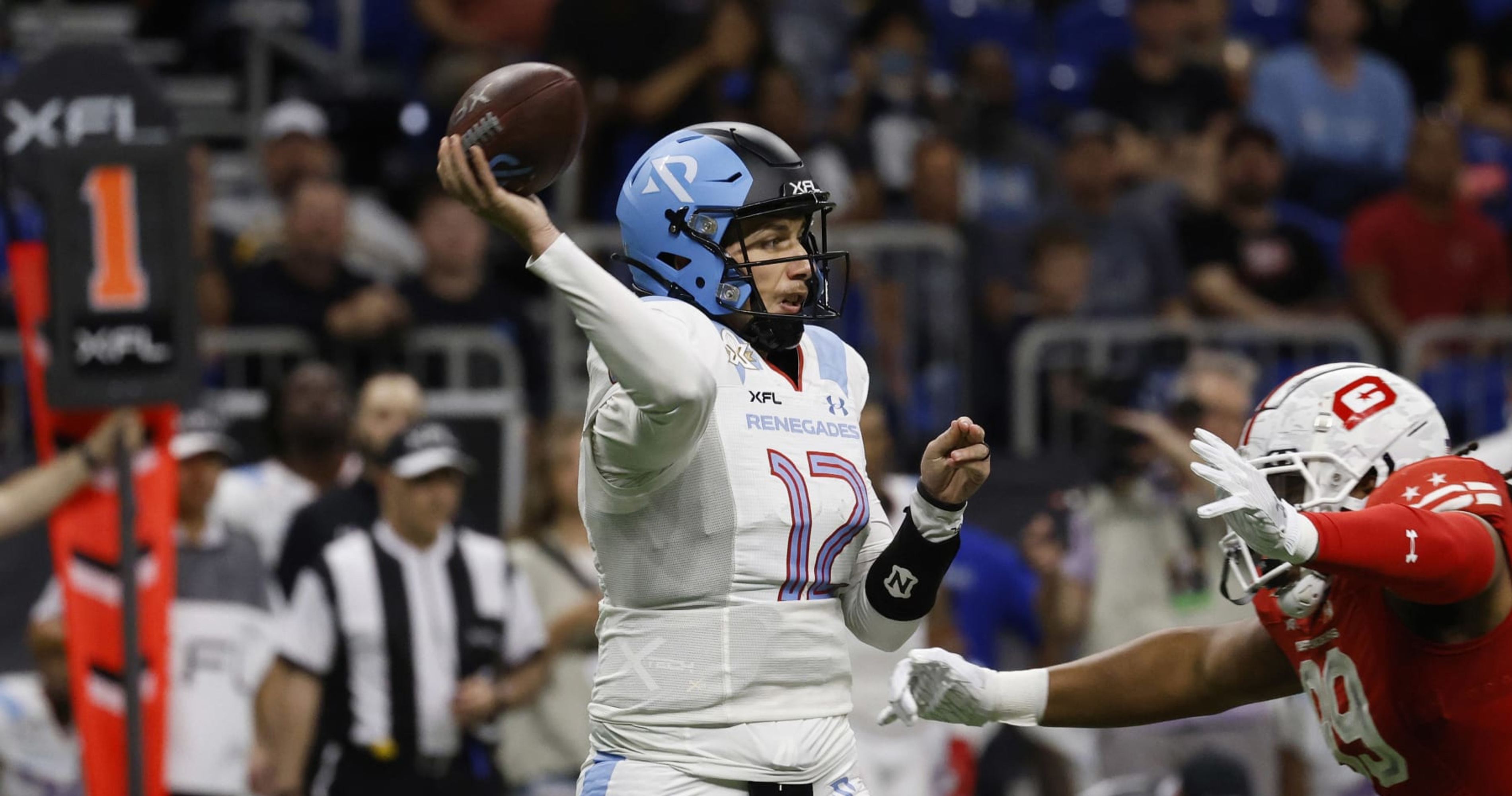 Ronald Cortes/Getty Images
The first XFL champion since 2001 has been crowned, and to say it was an upset would be the biggest understatement of the season.
Arlington Renegades @XFLRenegades

WE ARE CHAMPIONSSS
The Arlington Renegades, who snuck into the playoffs at 4-6, took down the mighty DC Defenders 35-26 at the Alamodome, and quarterback Luis Perez was at the receiving end of much of the praise.
The Texas A&M Commerce alum went 26-of-36 for 288 yards and three touchdowns in the effort, cementing a solid turnaround since being traded to the Renegades from the Vegas Vipers earlier this season.
Other significant performers for the Renegades include Leddie Brown, who scored two total touchdowns and had 75 all-purpose yards. Tyler Vaughns and Sal Cannella had the other two receiving touchdowns and finished with 83 and 71 yards, respectively.
The Defenders had a lackluster performance from quarterback Jordan Ta'amu, who was 16-of-30 for 245 yards, two touchdowns and three interceptions. Abram Smith had an effective day on the ground, rushing for 90 yards and scoring two touchdowns, while Josh Hammond had 127 yards and two touchdowns in the receiving game.
Still, it was Perez who had all of the headlines. He may be one of the most recognizable names in the recent spring football trend, making an impact in the AAF, XFL and USFL.
He has had a few short-lived NFL opportunities, but it seems that fans on Twitter think he deserves another NFL chance.
Joe Kaleta @TheeeBigJoe

QB Luis Perez needs to be back in the NFL wow this dude can play!!! #XFLChampionship #XFL
ً @nxwtxnk

Luis Perez is getting an NFL contract after this
TheHandsomeRandall @HandsomeRandall

Luis Perez is putting on a show tonight. He's going to have calls from NFL teams. #XFLChampionship
Tyler McDonough™ @TM_Swish

Get Luis Perez in the nfl @NFL
Gil_Leopold @gil_leopold

What are the odds Luis Perez makes an NFL roster? I think pretty good.
John Schriffen @JohnSchriffen

Congrats Arlington Renegades winning the XFL Championship! So happy for Luis Perez…deserves another shot at the NFL.
peter @sinatraswinery

I'll be pissed if @XFLRenegades QB Luis Perez doesn't get a genuine shot to be at least a QB2 on a NFL roster.

Dude's been a baller in every spring league he's been in. Showing it in the #XFLChampionship.
The win gives the Renegades a 6-6 record on the season and adds another piece of hardware to head coach Bob Stoops' legendary cabinet.
The Defenders finish the season with a 10-2 record, being the only team in the league to record double-digit wins this season.